Tuition Free Universities Norway
(Last Updated On: July 13, 2017)
Tuition Free Universities Norway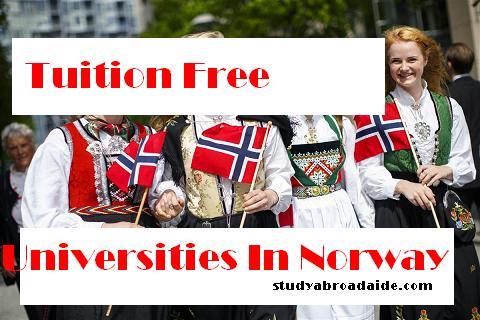 Tuition Free Universities Norway
NHH Norwegian School of Economics
NHH is a publicly funded university and charges no application or tuition fees.
University of Bergen
The University of Bergen is publicly funded and therefore offers tuition-free education for Norwegians as well as students from both inside and outside EU/EEA/EFTA countries. The only student expenditures are a nominal semester fee (NOK 590) paid to the Student Welfare Organisation, books, and of course costs of living.
Nord University
As a publicly-funded Norwegian university, Nord does not charge tuition fees.
If you are a non-EU/EEA applicant you must be able to document "financial capacity" in order to obtain a study permit and travel to Norway. This means that you must show that you have enough money to cover the cost of living in Norway for at least one year. This is a requirement of the Norwegian Directorate of Immigration (UDI)
Tuition free Universities
UIT The Arctic University of Norway
students are required to pay a semester fee of NOK 550  per semester to The Arctic Student Welfare Organisation. The payment of this semester fee will allow you to register for classes, sit examinations, access student counselling, gain membership in student organisations and receive a student card. The latter entitles you to reduced fares on public transport and reduced ticket prices to various cultural events, etc.
NLA University College
We want to have more international students at NLA. To accommodate this, we have decided to have a 50% reduced semester fee for international students who are on track with their studies. For the academic year 2016/2017 the semester fee for international students was 1915 NOK for students in Bergen and 1820 NOK for students in Kristiansand.
Tuition Free Universities Norway
BEST BOOK TO BUY FOR PRACTICE
The Official Cambridge Guide To Ielts Student's Book