Korean Government Scholarship Programme 2018
(Last Updated On: October 8, 2017)
Korean Government Scholarship Programme 2018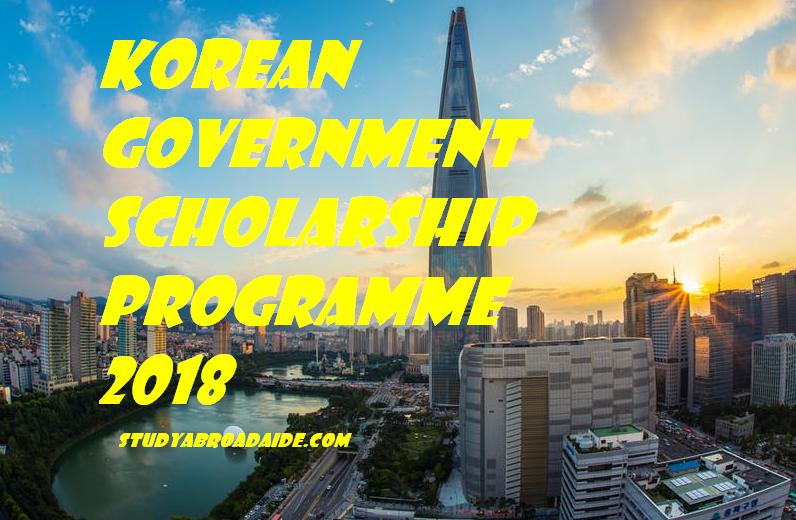 Korean Government Scholarship Programme 2018
No. F. 1-3/2017-E5.3
Government of India
Ministry of Human Resource Development
(Department of Higher Education)
ES.3 Section
NOTICE FOR PUBLIC
The Government of the Republic of Korea has announced '2018 Korean Government Scholarship Program' for undergraduate degree tenable at higher educational institutions in Korea.
2. The guidelines, application form, selection process and programme policies for '2018 Korean
Government Scholarship Program' for undergraduate degree is annexed. Further information and the MS
Word file of the application may be obtained from the Embassy of the Republic of Korea home page
ind.mofa.go.kr or http://www.studyinkoreagovkr
3. The last date for '2018 Korean Government Scholarship Program' for undergraduate degree is
13.10.2017 (till 5 pm). The applicants are required to send their application directly to the Embassy of the
Republic of Korea, New Delhi on or before 13.10.2017 (till 5 pm) on the following address:
Ms. So-Yeon Park (Political Counsellor),
Embassy of the Republic of Korea,
9 Chandragupta Marg,
Chanakyapurl Extension, New Delhi-110021.
Ph: 011-42007000
(G2
Under Secretary (Scholarship)
Dated: 26.09.2017 Tele: 011 26172917

Korean Government Scholarship Programme 2018
1. objectives
The Korean Government Scholarship Program for undergraduate degrees is designed to provide international students with opportunities to study at higher educational institutions in Korea for Bachelor-level degrees, which in turn will contribute to promoting the international exchange in education and to deepening the mutual friendship among countries.
3. Academic Programs: Bachelor's Degree Program (4 years) after preliminary Korean Language Program (1 year)
Scholars must take the mandatory Korean language training at a language institution that will be designated by NIIED. The institution will be specified in the letter of invitation after the announcement of final successful candidates.
Scholars must attain a certain level on TOPIK (Test of Proficiency in Korean) as required by NIIED before the completion of the one-year Korean language program. Otherwise, scholars are not allowed to proceed to the degree program.
Scholars with level 5 or 6 on TOPIK will be exempt from the language program and must begin their Bachelor's degree program from Spring 2018
Scholars who receive TOPIK level 5 or 6 during the first 6 months of the language program may start their degree program in the Fall 2018 semester.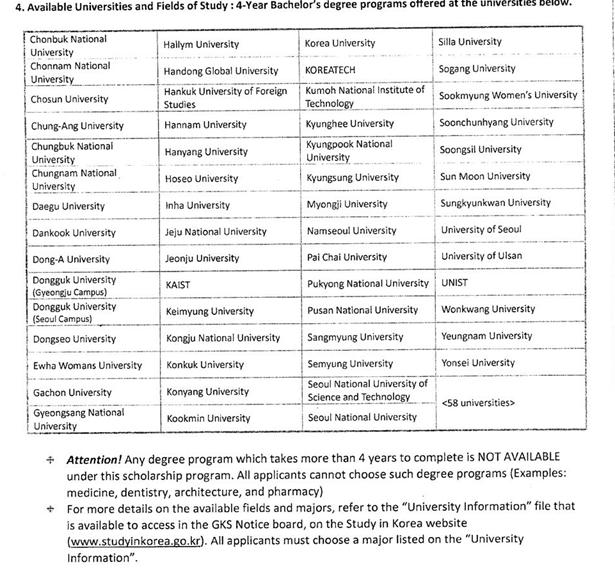 5. Qualifications: Prospective applicants must meet all of the following conditions.
(1) CITIZENSHIP: An applicant and his or her parents must be citizens of one the countries listed on the above
chart in #2 of this guideline.
+ Attentf on! Neither the applicant nor the parents should hold the Korean citizenship.
+ Exception(OnIy for those holding Japanese Citizenship): Individuals whose parents hold a 'Soecial Permanent Residency Permit' within Japan while holding Korean Citizenship may be deemed eligible to apply.
(2) AGE: An applicant must be under age 25 as of March 1, 2018 (Should be born after March, 1, 1993).
(3) HEALTH: An applicant must be in good health, both physically and mentally.
+ Those with disabilities, but in good mental and physical health, are eligible to apply.
+ Those with severe Illness are NOT ELIGIBLE to apply.
(4) LEVEL OF EDUCATION: An applicant must have graduated or be expected to graduate from a high school as of March 1, 2018
+ Those who have already achieved a Bachelor's degree or a higher degree are NOT ELIGIBLE to apply.
+ Those who have graduated or are expected to graduate from a high school in Korea are NOT ELIGIBLE to apply.
(5) GRADES: An applicant must either have the cumulative grade point average (C.G.P.A.) of 80% (Out of 100%), or
be ranked within the top 20% throughout the entire high school period.
+ C.G.P.A. should be 2.64/4.0, 2.80/4.3, 2.91/4.5, 3.23/5.0 or higher (see Appendix 3]
+ If an applicant's high school has an evaluation system different from the above scales, see 7-(2)-J.
(6) An applicant should never have been awarded with any scholarship programs from Korea for an undergraduate degree program.
(7) An applicant must have no limitations in travelling abroad
(8) Applicants who have proficiency in the Korean or English language will be given preference.
(9) Descendants of the Korean War veterans will be given preference.
(10) Engineering and Science majors will be given preference.
(11) Applicants from low income families or underprivileged backgrounds will be given preference.
(12) Applicants who are confirmed to be 'third generation' overseas Koreans will be given preference.
(13) An applicant is restricted to apply either for the Embassy Track or for the Regional University Track.
4' Applicants who apply for both tracks will be automatically disqualified and their applications will be eliminated.

See full PDF
Korean Government Scholarship Programme 2018