(Last Updated On: July 12, 2017)
IELTS Writing Practice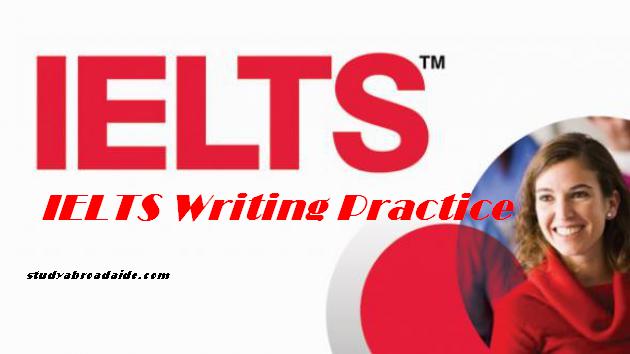 The Writing paper has two tasks which must both be completed. In task 1 test takers write at least 150 words in about 20 minutes. In task 2 test takers write at least 250 words in about 40 minutes. Test takers will be penalised if their answer is too short or does not relate to the topic. Answers should be written in full sentences (test takers must not use notes or bullet points).
IELTS Academic
Task 1: test takers describe a graph, table, chart or diagram in their own words.
Task 2: test takers discuss a point of view, argument or problem. Depending on the task, test takers may be required to present a solution to a problem, present and justify an opinion, compare and contrast evidence, opinions and implications, and evaluate and challenge ideas, evidence or an argument.
IELTS General Training
Task 1: test takers write a letter in response to a given everyday situation. For example, writing to an accommodation officer about problems with your accommodation, writing to a new employer about problems managing your time, writing to a local newspaper about a plan to develop a local airport.
Task 2: test takers write an essay about a topic of general interests. For example, whether smoking should be banned in public places, whether children's leisure activities should be educational, how environmental problems can be solved
IELTS Writing Practice
IELTS Writing Practice
BEST BOOK TO BUY FOR PRACTICE
The Official Cambridge Guide To Ielts Student's Book
IELTS Writing Practice
The nine bands are described as follows:
| | | |
| --- | --- | --- |
| 9 | Expert User | Has full operational command of the language: appropriate, accurate and fluent with complete understanding. |
| 8 | Very Good User | Has fully operational command of the language with only occasional unsystematic inaccuracies and inappropriacies. Misunderstandings may occur in unfamiliar situations. Handles complex detailed argumentation well. |
| 7 | Good User | Has operational command of the language, though with occasional inaccuracies, inappropriateness and misunderstandings in some situations. Generally handles complex language well and understands detailed reasoning. |
| 6 | Competent User | Has generally effective command of the language despite some inaccuracies, inappropriacies and misunderstandings. Can use and understand fairly complex language, particularly in familiar situations. |
| 5 | Modest user | Has partial command of the language, coping with overall meaning in most situations, though is likely to make many mistakes. Should be able to handle basic communication in own field. |
| 4 | Limited User | Basic competence is limited to familiar situations. Has frequent problems in understanding and expression. Is not able to use complex language. |
| 3 | Extremely Limited User | Conveys and understands only general meaning in very familiar situations. Frequent breakdowns in communication occur. |
| 2 | Intermittent User | No real communication is possible except for the most basic information using isolated words or short formulae in familiar situations and to meet immediate needs. Has great difficulty understanding spoken and written English. |
| 1 | Non User | Essentially has no ability to use the language beyond possibly a few isolated words. |
| 0 | Did not attempt the test | No assessable information provided at all. |