(Last Updated On: July 12, 2017)
IELTS Reading Practice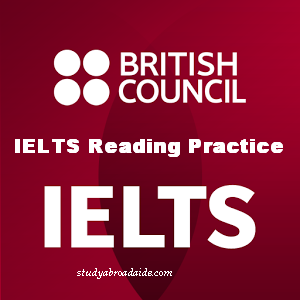 The Reading paper has three sections and texts totaling 2,150-2,750 words. There will be a variety of question types, such as multiple choice, short-answer questions, identifying information, identifying writer's views, labeling diagrams, completing a summary using words taken from the text and matching information/headings/features in the text/sentence endings. Test takers should be careful when writing down their answers as they will lose marks for incorrect spelling and grammar.
IELTS Reading Practice
Texts in IELTS Academic
Three reading texts, which come from books, journals, magazines, newspapers and online resources written for non-specialist audiences. All the topics are of general interest to students at undergraduate or postgraduate level.
Texts in IELTS General Training
Section 1 contains two or three short texts or several shorter texts, which deal with everyday topics. For example, timetables or notices – things a person would need to understand when living in an English-speaking country.
Section 2 contains two texts, which deal with work. For example, job descriptions, contracts, training materials.
Section 3 contains one long text about a topic of general interest. The text is generally descriptive, longer and more complex than the texts in Sections 1 and 2. The text will be taken from a newspaper, magazine, book or online resource
IELTS Reading Practice
BEST BOOK TO BUY FOR PRACTICE
The Official Cambridge Guide To Ielts Student's Book
The nine bands are described as follows:
| | | |
| --- | --- | --- |
| 9 | Expert User | Has full operational command of the language: appropriate, accurate and fluent with complete understanding. |
| 8 | Very Good User | Has fully operational command of the language with only occasional unsystematic inaccuracies and inappropriacies. Misunderstandings may occur in unfamiliar situations. Handles complex detailed argumentation well. |
| 7 | Good User | Has operational command of the language, though with occasional inaccuracies, inappropriateness and misunderstandings in some situations. Generally handles complex language well and understands detailed reasoning. |
| 6 | Competent User | Has generally effective command of the language despite some inaccuracies, inappropriacies and misunderstandings. Can use and understand fairly complex language, particularly in familiar situations. |
| 5 | Modest user | Has partial command of the language, coping with overall meaning in most situations, though is likely to make many mistakes. Should be able to handle basic communication in own field. |
| 4 | Limited User | Basic competence is limited to familiar situations. Has frequent problems in understanding and expression. Is not able to use complex language. |
| 3 | Extremely Limited User | Conveys and understands only general meaning in very familiar situations. Frequent breakdowns in communication occur. |
| 2 | Intermittent User | No real communication is possible except for the most basic information using isolated words or short formulae in familiar situations and to meet immediate needs. Has great difficulty understanding spoken and written English. |
| 1 | Non User | Essentially has no ability to use the language beyond possibly a few isolated words. |
| 0 | Did not attempt the test | No assessable information provided at all. |