(Last Updated On: August 20, 2017)
What is GRE Subject Test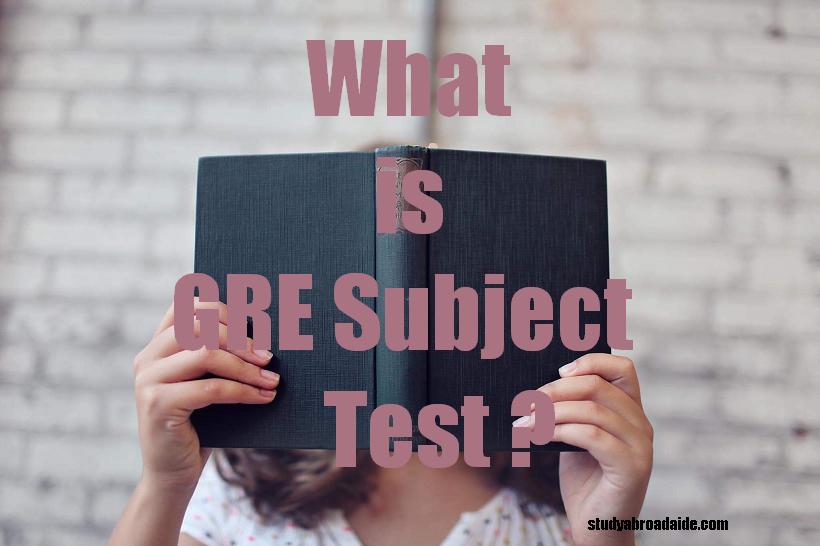 What is GRE Subject Test
The GRE Subject Tests are achievement tests that measure your knowledge of a particular field of study.
Show what you know about a specific subject and graduate schools will take notice. The Subject Tests can help you stand out from other applicants by emphasizing your knowledge and skill level in a specific area.
Subject Test is intended for students who have an undergraduate major or extensive background in one of these six disciplines:
Biology-Content Specifications
The approximate distribution of questions by content category is shown below.
I. CELLULAR AND MOLECULAR BIOLOGY (33–34%)
II. ORGANISMAL BIOLOGY (33–34%)
III. ECOLOGY AND EVOLUTION (33–34%)
Chemistry-Content Specifications
I. ANALYTICAL CHEMISTRY — 15%
II. INORGANIC CHEMISTRY — 25%
III. ORGANIC CHEMISTRY — 30%
IV. PHYSICAL CHEMISTRY — 30%
Literature in English-Content Specifications
Literary Analysis (40–55%)

Identification (15–20%)

Cultural and Historical Contexts (20–25%)

History and Theory of Literary Criticism (10–15%)
Mathematics-Content Specifications
CALCULUS — 50%

ALGEBRA — 25%

ADDITIONAL TOPICS — 25%
Physics-Content Specifications
CLASSICAL MECHANICS — 20%

ELECTROMAGNETISM — 18%

OPTICS AND WAVE PHENOMENA — 9%

THERMODYNAMICS AND STATISTICAL MECHANICS — 10%

QUANTUM MECHANICS — 12%

ATOMIC PHYSICS — 10%

SPECIAL RELATIVITY — 6%

LABORATORY METHODS — 6%

SPECIALIZED TOPICS — 9%
Psychology-Content Specifications
I. BIOLOGICAL (17–21%)
II. COGNITIVE (17–24%)
III. SOCIAL (12–14%)
IV. DEVELOPMENTAL (12–14%)
V. CLINICAL (15–19%)
VII. MEASUREMENT/METHODOLOGY/ OTHER (15–19%)
GRE Subject Test scores are used by admissions or fellowship panels to supplement your undergraduate records, recommendation letters and other qualifications for graduate-level study.
What is GRE Subject Test
Although the scores may not be a requirement for admission to a particular program, admissions committees are likely to consider the scores if they are submitted.
Subject Test can be taken in
SOURCE- ETS.ORG