(Last Updated On: August 17, 2017)
Vocabulary for IELTS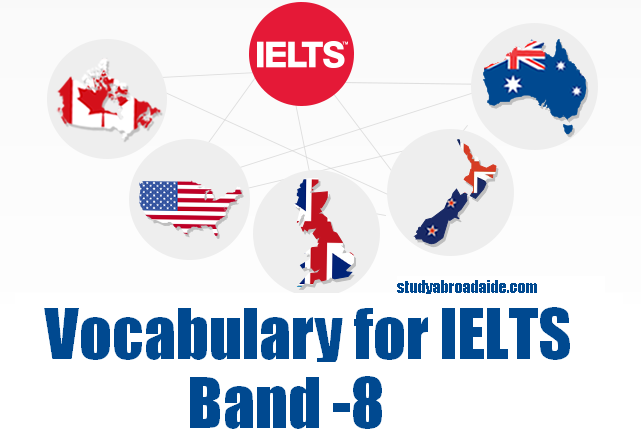 Vocabulary for IELTS
affably 
in a pleasant or friendly way
afield
far afield a long way
away People come from far afield to visit
the grave
agenda 
noun a list of points
for discussion what's on the agenda?
what are we going to discuss?
agog
adj all agog very eager
They were all agog to hear her story
alienate
verb 1. to make someone
feel unfriendly 2. to make someone not
want to support you
allege
verb to suggest that someone
may have done something wrong. Synonym
claim
barnstorming
adj full of wild political oratory
bigoted
adj with very strong and
unreasonable ideas about something. Synonym
prejudiced. Antonym open-minded
bipartite
adj with two sides
taking part
bleak 
adj 1. cold and unpleasant
The path led across bleak mountains. 2.
showing no sign of hope She gave him a
bleak stare. With no qualifications, his job
prospects are bleak.
bootleg
adj sold illegally. Synonym
illegal
Briton
noun a person from the
United Kingdom
buoyant
adj 1. which can float
easily, which helps something float easily
The raft became waterlogged and was no
longer buoyant. Salt water is more buoyant
than fresh water. 2. full of confidence She
left the meeting in a very buoyant mood.
cahoots
noun (informal.) to
be in cahoots with someone to work with
someone against another person I think
she's in cahoots with the drugs gang.
cairn
noun a pile of stones to mark
an important spot
caricature 
noun a funny
drawing or description which exaggerates a
person's appearance He drew a caricature
of the Prime Minister. Her description of
the office is nothing less than a caricature of
the system. verb to draw a caricature of
someone The Prime Minister is easy to
caricature.
cartel
noun a group of companies
which try to fix the price of something
derisory
adj ridiculously small
despise
verb to look down on
someone, to think someone is not worth
much. Synonym loathe. Antonym admire
egregious
adj very bad (formal.)
elision
noun the omission of an
element of a word or phrase
Vocabulary for IELTS
fidelity
noun 1. the fact of being
faithful He was rewarded for his fidelity to
the president. 2. the quality of the sound produced
by an electronic machine such as a CD
player a high fidelity CD player
figurative 
adj 1. (of art.) which
shows something as it really is He's a
well-known figurative artist.
glaring
adj 1. very bright the
glaring headlights of the cars 2. fierce He
gave me a glaring look. 3. obvious The
book is full of glaring mistakes
hoax
noun a trick played on someone
as a joke or to annoy him or her The
police and fire brigade arrived but the bomb
was just a hoax. The ambulance answered
a hoax telephone call.
Vocabulary for IELTS
immaculate
adj 1. extremely
clean or tidy The car looked absolutely
immaculate
laconically 
adv using only a
few words
opulent
adj rich, luxurious or
splendid. Antonym sparse
propaganda
noun the
spreading of false or biased information
about something which you want the public
to believe
stance 
noun 1. the position of
someone when standing His stance is so
awkward I'm surprised he can even hit the
ball. 2. a point of view or opinion Her
stance on environmental issues is surprising.
The party has adopted a new progressive
stance on education.
unpalatable 
adj unpleasant
to consider or accept She had to face
some unpalatable facts.
yank
noun a short sharp pull He
gave the rope a yank and it came away in his
hands. verb to pull hard and sharply
Yank that string and it should ring a bell in
the bar. She tried to yank the pram out of
the mud. Synonym pull
zealot
noun a fanatic, a person who
shows excessive zeal, especially for religion.
Synonym extremist. Antonym moderate
Vocabulary for IELTS