USA student VISA interview Questions and Answers
(Last Updated On: August 29, 2017)
USA student VISA interview Questions and Answers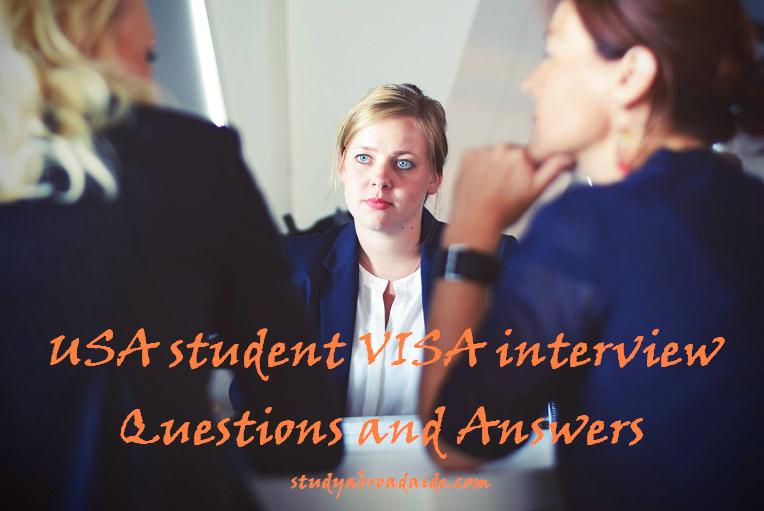 USA student VISA interview Questions and Answers
Golden Rule
show concrete evidence that you do not plan to live in the U.S. after studies but to return to your home country. 
F1 visa Interview questions
Q: Why did you choose to study in US?
The American education system has been deemed the best amongst all others and I believe their programs are well structured and suitable for the field I would like to step in.
Q: What will be your specialization in MS? / What will be your major in MS?
Answer appropriately (eg: I will be majoring…………………
Q: Why do you want to do Masters/Phd or Undergrad ?
In this competitive world, higher qualification in a field will serve greatly to give me a better chance to join the industry of my choice as a long-term career prospect.
Q: Which university are going to? and why ?
I am going to this university because the University had offered me scholarship and my research areas match with the program of this university.
Q: Why this university?
I have interacted with few current students who are pursuing their Masters at this University. They  advised it's one of the Universities that offers great research opportunities in the field I will be studying and on top of that, it has outstanding faculty.
Q: Did you contact any professors from that university?
Answer appropriately (eg: Yes! I have been in touch with professor name the professor or dean for your program look at university website for his/her name.
Q: Why do you think we should give you visa to study in the US?
I think I should be granted a visa because I am very passionate about pursuing my studies in the States and will make full use of this opportunity.
Q.what you are looking for after studies?
In this highly competitive world, having global exposure through abroad studies is important in advancing my career and it also, enhances my ability to work with different cultures.
Best of luck for F1 visa Interview
USA student VISA interview Questions and Answers