US History SAT Subject Test Study Guide
(Last Updated On: December 10, 2017)
US History SAT Subject Test Study Guide
Barron's SAT Subject Test: U.S. History 3rd Edition

3rd Edition

The Official SAT Subject Test in U.S. History Study Guide

SAT Subject Test™: United States History w/CD (SAT PSAT ACT (College Admission) Prep)

Cracking the SAT U.S. History Subject Test (College Test Preparation)

SAT Subject Test U.S. History (Kaplan Test Prep)
US History SAT Subject Test Study Guide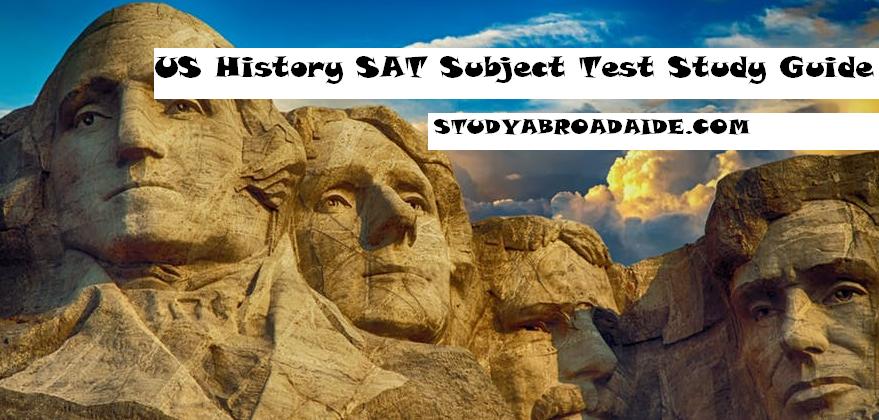 This updated edition provides a number of tools to help students succeed on the SAT Subject Test in U.S. History:
A diagnostic test to help students pinpoint their strengths and weaknesses
Three full-length practice tests with all questions answered and explained
Timelines at the start of each chapter highlighting key events
Test-taking strategies and tips for answering multiple-choice questions
An in-depth review of U.S. history, starting with European colonization of North America and covering major topics that include: the Civil War and Reconstruction, the Great Depression, important Supreme Court cases, and more
Review quizzes with answer explanations following every five chapters
The manual can be purchased alone or with an optional CD-ROM that presents two additional full-length practice tests with automatic scoring and fully explained answers.
---
SAT Subject Tests are a valuable way to help students show colleges a more complete picture of their academic background and interests. Each year, nearly 100K high school students take a history SAT Subject Test to demonstrate their knowledge. Several colleges and universities also require or recommend students to take SAT Subject Tests for admission and/or placement. Taking a SAT Subject Test in history can be a great way for students to demonstrate interest in the humanities.
The Official SAT Subject Test in U.S. History Study Guide from the College Board is the only source of official questions and answer explanations. Created from the makers of the Subject Tests, this guide offers a total of four (two never-been released) forms of actual past U.S. History exams for students to gain real practice. Students will gain valuable experience and raise their confidence by taking practice tests, learning about test structure, and gaining a deeper understanding of what is tested on the test. The Official SAT Subject Test in U.S. History Study Guide will help students get ready for the test with:
•4 full-length, previously administered tests in U.S. History
•Detailed answer explanations for every question in all tests
•Exclusive test-taking approaches and tips
US History SAT Subject Test Study Guide
---
by
EVERYTHING YOU NEED TO HELP SCORE A PERFECT 800. Equip yourself to ace the SAT U.S. History Subject Test with The Princeton Review's comprehensive study guide—including 3 full-length practice tests, detailed reviews of key U.S. history concepts, and targeted strategies for every question type.
SAT U.S. History is a tough exam to prepare for—after all, there's a lot of history to remember! Written by the experts at The Princeton Review, Cracking the SAT U.S. History Subject Test arms you to take on the exam and achieve your highest possible score.
Techniques That Actually Work.
• Tried-and-true strategies to help you avoid traps and beat the test
• Tips for pacing yourself and guessing logically
• Essential tactics to help you work smarter, not harder

Everything You Need to Know for a High Score.
• Expert subject reviews for every test topic
• Up-to-date information on the SAT U.S. History Subject Test
• Score conversion tables for accurate self-assessment
Practice Your Way to Perfection.
• 3 full-length practice tests (2 in the book and 1 online) with detailed answer explanations
• Practice drills at the end of each content review chapter
• Pop quiz questions throughout the review sections
US History SAT Subject Test Study Guide
---
Kaplan's SAT Subject Test U.S. History is the most up-to-date guide on the market with the essential content, practice, and strategies students need for success on Test Day. Kaplan's expert tips and focused review will help you ace the test and give your college applications a boost.

Kaplan is so certain that SAT Subject Test U.S. History offers all the knowledge you need to pass the exam that we guarantee it: After studying with the book, you'll score higher on your test—or you'll get your money back.
Essential Review
Three full-length practice tests with detailed answer explanations
A full-length diagnostic test identifies areas for score improvement so you can personalize your prep
Focused chapter summaries, highlights, and quizzes
End-of-chapter quizzes for additional practice
Proven score-raising strategies teach you how to tackle the test efficiently
Expert Guidance
We know the test: Our Learning Engineers have put tens of thousands of hours into studying the SAT – using real data to design the most effective strategies and study plans.
Kaplan's expert psychometricians make sure our practice questions and study materials are true to the test.
We invented test prep—Kaplan (www.kaptest.com) has been helping students for almost 80 years, and more than 95% of our students get into their top-choice schools. Our proven strategies have helped legions of students achieve their dreams.
US History SAT Subject Test Study Guide
---
Our bestselling SAT Subject Test™: U.S. History test prep includes a comprehensive review of the American History: the Colonial Period, the American Revolution, the Civil War and Reconstruction, World War I and World War II, American Imperialism, the Cold War and more. Each chapter contains examples and practice questions that help you study smarter and boost your test score.
The book includes 6 full-length practice tests that replicate the exam's question format. Two of the book's practice exams are offered on our TestWare CD with the most powerful scoring and diagnostic tools available today. Automatic scoring and instant reports help you zero in on the topics and types of questions that give you trouble now, so you'll succeed when it counts.
Each practice test comes with detailed explanations of answers to identify your strengths and weaknesses in American History. We don't just say which answers are right – we also explain why the other answer choices are incorrect – so you'll be prepared.
The book also includes study tips, strategies, and confidence-boosting advice you need for test day.
US History SAT Subject Test Study Guide
---
SAT U.S. History Subject Test Flashcard Study System uses repetitive methods of study to teach you how to break apart and quickly solve difficult test questions on the SAT Subject Test.

Study after study has shown that spaced repetition is the most effective form of learning, and nothing beats flashcards when it comes to making repetitive learning fun and fast. Our flashcards enable you to study small, digestible bits of information that are easy to learn and give you exposure to the different question types and concepts. SAT U.S. History Subject Test Flashcard Study System covers all of the most important topics that you'll need to know to be successful on test day.
---
US History SAT Subject Test Study Guide