Universities for GRE score 320
(Last Updated On: August 30, 2017)
Universities for GRE score 320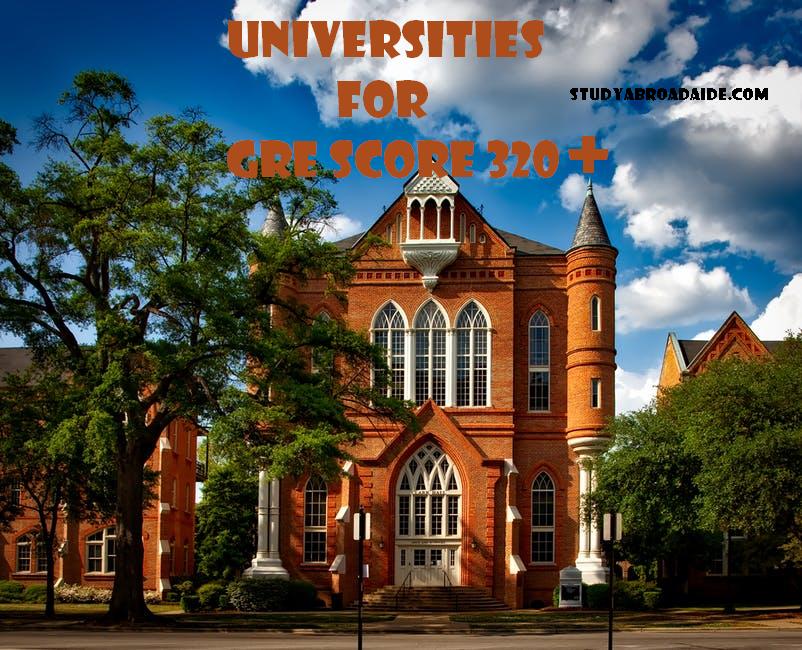 Universities for GRE score 320
These are the few Universities in which you can apply for 320 plus.
This list can also be considered the best universities of United States of America,Different departments have different additional requirements so do check for your particular course requirement before applying to the university.
Massachusetts Institute of Technology
www.mit.edu
Stanford University
www.stanford.edu
University of California- Berkeley
www.berkeley.edu
University of Illinois – Urbana Champaign
www.uiuc.edu
University of Michigan Ann Arbor
www.umich.edu
Cornell University
www.cornell.edu
University of Texas at Austin
www.utexas.edu
University of Maryland – College park
www.umd.edu
University of California – San Diego
www.ucsd.edu
California Institute of Technology
www.caltech.edu
University of Wisconsin- Madison
www.wisc.edu
University of California Los Angles
www.ucla.edu
Harvard University
www.harvard.edu
Carnegie Mellon University
www.cmu.edu
 
Purdue University –West Lafayette
www.purdue.edu
Universities for GRE score 320
Princeton University
www.princeton.edu
Pennsylvania State University –Univ Park
www.psu.edu
Georgia Institute of Technology
www.gatech.edu
Virginia poly Tech
www.vt.edu
Texas A & M College Station
www.tamu.edu
Duke University
www.duke.edu
Universities for GRE score 320
University of Washington – Seattle
www.washington.edu
University of Minnesota
www.umn.edu
Columbia University
www.columbia.edu
Yale University
www.yale.edu
Ohio State University
www.osu.edu
University of Pittsburgh
www.pitt.edu
Universities for GRE score 320
Brown university (RI)
www.brown.edu
John Hopkins University
www.jhu.edu
North Carolina State University
www.ncsu.edu
Dartmouth College, NH
www.dartmouth.edu
Iowa State University
www.iastate.edu
University of California- Santa Barbara
www.ucsb.edu
Universities for GRE score 320
Case Western Reserve University
www.cwru.edu
Northwestern University (IL)
www.northwestern.edu
Arizona State University
www.asu.edu
University of Iowa
www.uiowa.edu
Rutgers, State Univ of NJ, New Brunswick
www.rutgers.edu
Rice University
www.rice.edu
Universities for GRE score 320
University of Rochester
www.rochester.edu
University of Virginia
www.virginia.edu
University of Pennsylvania
www.upenn.edu
If you are looking for personal help in applications university selection and email communication you can hire a professional Educational Counselor.
Email:
admin@studyabroadaide.com
or
Whatsapp +91 8960788050
Universities for GRE score 320