Top 5 website to find Internship Abroad
(Last Updated On: June 7, 2018)
Top 5 website to find Internship Abroad
There is a time in everyone's life when they are looking for internships in the related field of their study, Sometimes college help you to find suitable internships via their network but majority of times student have to look for internships by themselves here many students are confused as how they can know about any open position in a company and how they can actually apply for open position.
This article will help you to understand What is Internship? Types of internship? Required documents for applying for internship? Best websites to look for Internship positions?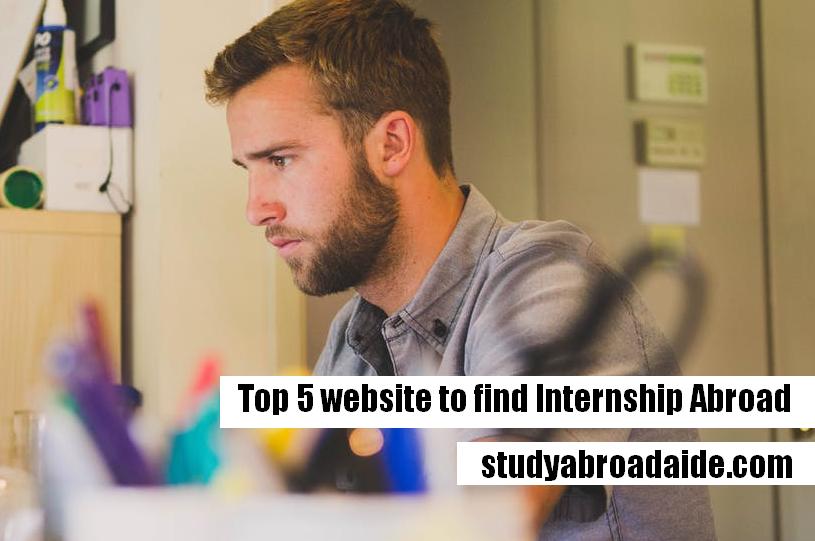 Let us first understand what actually is internship?
Internship is temporary position that a company offers to the students usually that are in their final year of Undergraduate degree it can end in few weeks to months.
The Internship can be taken for completing a project or gaining on hand experience on the subject that is major to your concentration at college.
Types of Internship:
Paid Internship opportunities
The company pays the intern some money for the services that are given by the students, Majority of students look for this kind of Internship opportunities and Experts also say that student should take these type of Internship as when the company pays student they will want a return in favor thus you have more work load and more real experience you gain.
Non Paid internship opportunities
In these type of internship the company don't pay you anything but give you access to their premises and keep you for while the job role is little less and you won't be getting much corporate action.
Keeping in mind that Paid Internship opportunities are less student should say never to Non Paid internship opportunities also as there is always scope where you can prove yourself and  be the rightful candidate.
Student pay for Internship
This is a new kind of internship where a company may ask you for some payment for giving you internship in their company, usually this is the last resort to utilize your time and gain some experience.
It is although not bad because company take care that your every penny pays off they can organize help you to learn some software or tech you the important skills.
Top 5 website to find Internship Abroad
Company official website:
The first website that you should look if you have some preferred company in your mind is their official website as it will serve as the best place to look for internship opportunities.
Almost all the major multinational companies have a career section on their website where they post all the open positions.
Some company like Google, PepsiCo, Coca-Cola etc. have special internship plans.
Linkedin is the official platform where you can find people form companies and kind of you can stalk them for company updates  also you can directly contact them there and ask questions.
Majority of the people that you find there are relay helpful and will definitely help you in long run.
As the name suggest it is basically made for posting new internship from the companies and helping the students or job seekers to apply them directly.
Why internship.com?
Here you can find thousand of internship opportunities around the world in one place that will save your time and efforts in searching one by one on the internet.
Indeed is very popular in some countries and is getting popular in the countries where it is new. It is basically a job posting site and app where you can get internships jobs and regular jobs you just have to set the search filters properly.
The good thing about indeed is that you can save your CV and can apply with a click your CV and cover letter is received by the company.
Google
Google needs no introduction and the last or first place to be here you can simply write what type of internship you are looking for and where it will search for you.
Although you have to be careful and do some research about company by yourself.
Required documents for applying for internship?
Majority of students are confused as what are the required documents that will be needed for applying for internship and how they should present them to employers.
Fist document that is very important for applying for internship is your CV.
CV plays a very vital role in you selection so a student should ask for help from their teachers or some family member to help you draft a good CV.
Your CV should contain following-
–Your Name, Address, Working mobile number, professional email id (avoid using a old one make a new and professional one)
–Experience
Student will think that they don't have any experience so what they will write in it?
But remember that there is nothing like no experience you can write about any contribution that you had done in School or college in can be your participation in Sports, Community service, Drama, Dance anything that you had done.
If you have got any prize or medal do write it.
-Educational Qualifications
This section should be on point here just write your school GPA and College GPA along with subjects.
-Technical Knowledge
This is era of computers and we all know some or other software's you can write all of that with level of expertise in it.
For example
Photoshop: Expert
MS Office: Moderate
When you put all that information properly you will get a nice looking CV.
Second Document that you will need is Cover Letter.
Many students are confused that how to write cover letter and is it important to write a cover letter.
I would like to tell you that the cover letter is as important as your CV and plays a very important role in your selection.
 Important Points that should be covered in a Cover Letter
-The Position that you are applying and where you saw that open position.
-What makes you eligible for that open intern position?
-Why you want to work in that particular company (try to relate this question with your undergraduate degree and why you like that company)
-How can be you an asset to a company?
If you cover all these points you will definitely have a good cover letter
Top 5 website to find Internship Abroad