Summer courses in Germany for International Students
(Last Updated On: October 20, 2017)
Summer courses in Germany for International Students
Summer courses in Germany for International Students
Frankfurt Summer School
University of Applied Sciences
Bauhaus-Universität Weimar
Munich International Summer University (MISU)
University of Bonn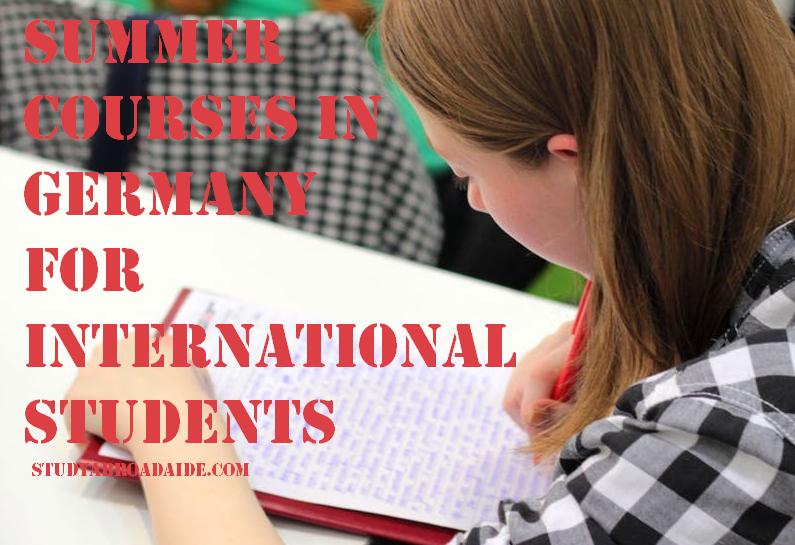 Frankfurt Summer School 2018

16 July – 10 August, 2018
During the four weeks participants will discover the city of Frankfurt, take part in a diverse cultural programme, attend German language courses, and seminars provided by researchers and lecturers from Goethe University as well as from partner universities cooperating with Goethe University within the programme of Strategic Partnerships. We offer seminars in three different tracks: Legal Studies, Psychology, and Natural and Life Sciences.
The programme fee for participants is 2,000 €. It consists of:
– 1,300 € for the seminar and cultural programme, the German language courses,
   all study material, insurance and the transportation fee within Frankfurt
– 700 € for accommodation incl. daily breakfast. Please note that our recommended hotel doesn't provide kitchen facilities for cooking. Though food can be brought to your room and there is a good variety of restaurants and a supermarket around. Anyways if that is an important concern to you, please feel free to book any alternative  accommodation like a hostel or private accommodation on independently.
University Website: http://summerschool.uni-frankfurt.de/
---
University of Applied Sciences
This year's International Summer School by University of Applied Sciences Europe (UE) will be offered in Berlin for people of all countries around the world.
Be one of the international and intercultural participants and take part in a wide range of activities: In seminars, workshops, and excursions in Berlin and its outskirts dealing with different tasks of art and design.
COSTS
Includes: Lectures and Practical workshops, equipment and material, guest speakers, all entrance fees, public transport ticket for two weeks, lunch and drinks on weekdays
Early Bird: 1250 Euro (until 01.03.)
Regular Price: 1400 Euro
Application Deadline: 01.07.
Prices exclude accommodation and travel to and from Berlin
University Website:http://www.btk-fh.de/en/summer-school/
Summer courses in Germany for International Students
---
Bauhaus-Universität Weimar
The Bauhaus Summer School is the summer programme of the Bauhaus-Universität Weimar. Choose from one of our language and specialised courses! The Bauhaus Summer School is a great opportunity to meet people from all over the world, to connect to an international network and broaden your cultural and academic horizons. The Bauhaus Summer School  takes place from 6 August – 1 September .
For further information, please visit our web page.
University Website: https://www.uni-weimar.de/summerschool/en/courses/
Summer courses in Germany for International Students
---
Munich International Summer University (MISU)
Summer is a great time to be a student at LMU Munich! Every year, more than 950 students from no less than 80 countries make MISU a truly international experience. Benefit from access to renowned professors who will inspire you to broaden your thinking and your goals. Immerse yourself in German through a wide array of Language Courses. Choose a Summer Academy from the entire spectrum of the natural sciences, social sciences, and the humanities. Gain credit towards your degree. Take advantage of a broad range of services which will help make your stay an enriching and unforgettable experience in Munich – one of Germany's hubs of history, culture, and outdoor activities.
Fees and Funding
The cost of the four-week Summer Language Courses is relatively uniform (about 1,000 euros including accomodation). Fees for the Summer Academies and Partner Programs, on the other hand, vary considerably.
Students from LMU partner universities who are interested in a fee-funded Summer Academy can apply for a fee waiver, ranging from partial to full waivers with a limit of 1,300 euros. If your home university is listed in our database, please send your Fee Waiver Application Form (as online formular). The fee waiver application deadline is on April 15th.
University Website: http://www.en.uni-muenchen.de/misu/index.html
Summer courses in Germany for International Students
---
University of Bonn
The University of Bonn invites international students and other interested individuals from any field of study or discipline to an International Summer Course for German Language and Cultural Studies.
The International Summer Course includes:
German language courses every morning from Monday to Friday (courses for all levels, from basic over intermediate to advanced level)
Elective modules (for example politics, history, choir)
Social activities and leisure programs (for example excursions)
Eligibility Requirements
In order to be eligible to register for the International Summer Course, you must fulfill the requirements given below:
university entrance qualification/qualification for admission to higher education,
minimum age of 18 years.
Please note that spouses are only able to attend the International Summer Course if they have registered for it themselves.
Application/Registration
Applicants who wish to participate in the International Summer Course must apply by May 12, 2017.
Participation Fee
The participation fee amounts to 750 € (including the costs for the excursions). The fee does not include housing or meals.
University Website: https://www.uni-bonn.de/studying/international-students/short-term-junior-year-and-exchange-programs/summer-course
---
Summer courses in Germany for International Students