Study Abroad scholarships spring 2018
(Last Updated On: October 25, 2017)
Study Abroad scholarships spring 2018
Central European University
https://www.ceu.edu/admissions/funding-fees/finaid-applicants/ma
European University of Lefke
http://www.eul.edu.tr/en/student-affairs/scholarships-and-tuition-fee-reductions/scholarships-and-tuition-fees/
Lund University
http://www.lunduniversity.lu.se/international-admissions/bachelors-masters-studies/scholarships-and-awards
European University at St. Petersburg
https://eu.spb.ru/en/international/admissions/financial-support
College of Europe
https://www.coleurope.eu/admission/scholarships/scholarships-country
Stockholm University
http://www.su.se/english/education/fees-scholarships/scholarships/scholarships-offered-by-stockholm-university-1.252602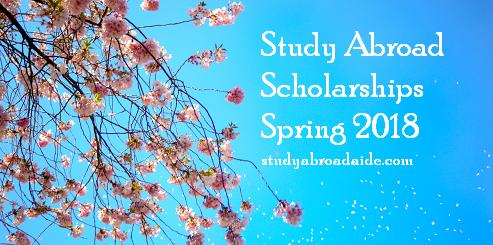 Study Abroad scholarships spring 2018
---
Central European University
Financial aid, awarded based on a combination of academic merit and financial need, is available for most CEU programs to students from any country.
The CEU Master's Scholarship covers the full cost of tuition, health insurance and a monthly stipend of HUF 96,000 (approx. EUR 310) or HUF 50,000 (approx. EUR 160) to assist with living costs. Single or shared housing in the CEU Residence Center may also be offered to scholarship recipients.
| | | | | |
| --- | --- | --- | --- | --- |
| | TUITION WAIVER | STIPEND | HOUSING | HEALTH INSURANCE |
| CEU Master's Scholarship | Yes | Yes | Yes/No | Yes |
Deadline for applicants to Master's programs
February 1, 2018 (midnight, Central European Time)
---
European University of Lefke
As a non-profit University, European University of Lefke offers a wide range of scholarship opportunities that have become a great incentive for students.
Academic scholarships for high-performing students
According to the rules and regulations of the EUL, students may be granted "high academic achievement" scholarship based on their previous semester's academic standing. The set minimum requirement for students to be granted this type of scholarship is the achievement of GPA of 3.50 out of 4.00
Sports scholarships
Apart from the academic scholarships offered to students there are also sports & culture scholarships that may be granted depending on students' success in the sports or culture field chosen and depending on students' or team's sports or culture achievements attained nationally and internationally (national & international competitions, tournaments, matches etc.).
Spring Semester Deadline for applicants :
Students who would like to join the EUL in the Spring Intake of an Academic Year are required to submit their application files starting from October till end of January of the concerned Academic Year.
---
Lund University
Swedish Institute scholarships
The Swedish Institute offers several scholarship programmes for international students studying at Bachelor's, Master's, PhD and post-doctoral levels.
Scholarship key facts
Over 40 countries represented by scholarship recipients, including China, USA, India, Turkey, Canada, Ukraine, Brazil, Indonesia, Bangladesh and Colombia, among others.
Lund University has agreements with several country-specific scholarship and funding programmes
Deadline for applicants:
Early June to 15 August for studies starting in the spring semester (January). Note that only a few programmes start in the spring semester each year.
---
Stockholm University
Scholarships are available for students from outside of the EU/EEA and who wish to study a master's programme in Sweden. Scholarships are awarded on a competitive basis.
Stockholm University Scholarship Scheme
The scholarship scheme at Stockholm University is aimed at especially qualified students coming from countries outside of EU/EEA/Switzerland and who are required to pay tuition fees.
Final application dates for spring semester 2018:
August 15 – All applicants
October 16 – Please note that applicants who need a residence permit are not encouraged to apply in this round as they will not have enough time to apply for and receive a residence permit before the start of the semester.
---
European University at St. Petersburg
International & National Funds and Scholarships.

There are several options you may use to support your study at EUSP. Some of them are valid for all students, others only for citizens of specific countries.
U.S. citizens:
Sallie Mae Graduate Student Loans
Deadline for applicants
Admissions continue on a rolling basis. Early applications are strongly encouraged. Due to a somewhat lengthy Russian Study Visa issuing process we ask you to send us your complete application form no later than
October 30, 2017, for enrollment in Spring Semester 2018
---
College of Europe
Scholarships per country
This list will give you an overview of the current funding opportunities available to you.
Deadline for applicants
The online application for the academic year 2018-2019 will be open from 1 November 2017 (deadline date fixed on 17 January 2018).
---
Study Abroad scholarships spring 2018