(Last Updated On: July 10, 2017)
Scholarships NZ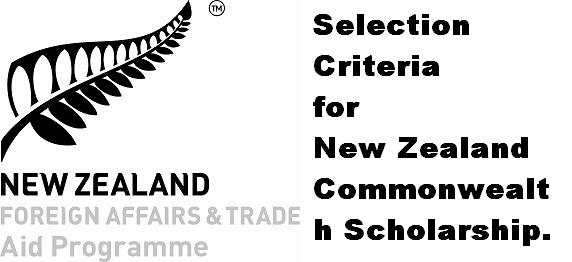 Selection Criteria for New Zealand Commonwealth Scholarship

Applicant must:
a) be an Indian citizen (Indian citizens living abroad are not eligible).
b) not hold another scholarship during the period of the New Zealand Commonwealth
Scholarship.
c) give an undertaking that after completion of their study they will return to India
in order to contribute to country's social/economic development for a minimum period
of two years.
Scholarships NZ
Qualification:
Applicants should have completed Bachelor's Degree or Master's Degree in the subject or allied fields with minimum 65% marks for Master's or Ph.D. respectively.
• Age: Applicant must be under 38 years of age as on 30.03.2018.
• Candidates who have already been abroad for study/training/specialization either on
scholarship or on their own for a period exceeding six months are eligible to apply only
if they have been in India for at least two consecutive years after returning from abroad
as on 30.03.2018.
• Applications from the candidates who are abroad will not be considered.
The documents to be uploaded at the time of applying online at
http://proposal.sakshat.ac.in/scholarship/
(a) Self attested scanned copy of the mark-sheet of degrees, diploma, qualifying examination,
(b) Where grades are mentioned, the candidate must upload the official explanation
adopted by the University/Institution.
(c) Self attested copy of date of birth certificate/ class 10 the certificate bearing date of birth or other equivalent documents.
(Note: The size must be under 530 kb for a single file.
Applicant can zip in case of more than one document to be uploaded.
A zip file is treated as a single file and it must be under 530 kb in size.)
Scholarships NZ
Requirement of English language proficiency for selection in New Zealand Commonwealth Scholarship 2018:
-The candidates must have completed tertiary education in English medium.
An official statement from the education provider is required
-The Candidates whose native language is not English are required to produce
the evidence of required competency in English to study in New Zealand
-As a condition of offering a place, the host institution in New Zealand may require
a candidate to take particular English test in English
-The Ministry of Human Resource Development does not ask applicant to provide
an English Language Proficiency certificate.
The details for New Zealand Commonwealth Scholarships 2017 is available at
following web address