Scholarships for Left Handed People
(Last Updated On: November 19, 2017)
Scholarships for Left Handed People
or
scholarship for left handed students
Juniata's left-handed scholarship
Parry & Pfau Left-Handed Scholarship
American Dissertation Scholarships
The DVC Foundation Left Handed Scholarships
The Vicki L. Schechtman Scholarship
Andrew Macrina Scholarship Fund
James River Church Left-Handed Scholarship
ESA Foundation Scholarship Program
John Kitt Memorial Scholarship
Heineken USA Performing Arts Scholarship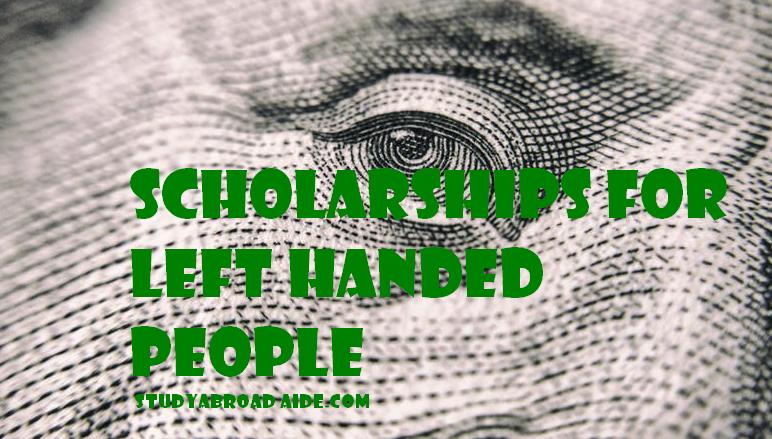 ---
Scholarships for Left Handed People
or
scholarship for left handed students
---
Juniata's left-handed scholarship
Award Amount : $1,000 to $1,500
The scholarship is reserved for sophomores, juniors or seniors attending Juniata College.
$1,000 to $1,500 a year to studious southpaws, was established by the late Mary Francis Beckley, a former Juniata student, with a bequest of $24,000. More than 40 left-leaning Juniata students have taken advantage of the scholarship since its inception in 1979.
http://www.juniata.edu/about/news/archive.php?action=SHOWARTICLE&id=17
---
Parry & Pfau Left-Handed Scholarship
Award Amount : 1500$
Deadline : July 31
Parry & Pfau, personal injury attorneys in Las Vegas, are pleased to promote higher education and give back to the community with a scholarship for southpaws.
Winner is not based on financial need, but will be selected by Parry & Pfau's selection committee based on creativity, humor, and overall quality
Open to left– or right-handed (or ambidextrous) high school seniors and college or graduate students who live in the United States
https://p2lawyers.com/scholarship/
---
SchoolScholarships.org
soon be offering scholarships for left handed students.
http://schoolscholarships.org/scholarships-for-left-handed-students-free-education-at-hand
---
American Dissertation Scholarships
American Dissertation Scholarships provide left-handed students the opportunity to obtain a dissertation scholarship. This enables left-handed students some additional income while working on their dissertation. Students must have finished all their coursework, have approval for their dissertation, and have passes their examinations.
---
The DVC Foundation Left Handed Scholarships
Right now, other communities and four-year colleges are already offering left handed scholarships for their left-handed students who are as unique and as diverse as our DVC student population of approximately 22,000 students.
https://www.dvcfoundation.org/Why-Give/Left-Handed-Scholarships
---
The Vicki L. Schechtman Scholarship
The Vicki L. Schechtman Scholarship is available to left-handed female undergraduate students. Students must plan to pursue a degree in science in order to be eligible. In addition, students interested in a research career will be given preference.
---
Heineken USA Performing Arts Scholarship
Administered by the Congressional Black Caucus Foundation, the Heineken USA Performing Arts Scholarship could provide $3,000 to creative left-handers who are pursuing bachelor's degrees in drama, music, opera, theatre, and other performing arts.
---
Andrew Macrina Scholarship Fund
Valued at $2,500, the Andrew Macrina Scholarship Fund is available from the American Culinary Federation (ACF) for left-handed high school seniors who are accepted at an accredited college to study culinary or pastry arts.
---
James River Church Left-Handed Scholarship
In partnership with Evangel University, the James River Church (JRC) awards the Left-Handed Scholarship for $500 annually to southpaws who are pursuing the associate degree in leadership from the JRC Leadership Campus.
---
ESA Foundation Scholarship Program
Entertainment Software Association (ESA) Foundation Scholarship has been offered to right-handed and left-handed students who are enrolling full-time in an accredited bachelor's program leading to a career in computer or video game arts. Up to 30 scholarships are awarded for $3,000 apiece each year.
---
John Kitt Memorial Scholarship
Perhaps the most unique scholarships available for lefties are granted by the American Association of Candy Technologists (AACT), including the John Kitt Memorial Scholarship. For $5,000, qualified candidates must be at least sophomores attending a four-year North American university to major in food science, chemistry, biology, nutrition, culinary arts, or related fields. Left-handers interested in applying must display genuine commitment to a career in the confectionary industry.
---
Scholarships for Left Handed People
or
scholarship for left handed students