5 Recommended Books for FE Civil
(Last Updated On: August 1, 2019)
These are the best books recommended for FE Civil Exam, if any one taking FE Civil Exam experts recommend you to at least read any of these two books that contain all the information about the exam and will help you to understand the exam and will also help you to speed up in the real exam situation.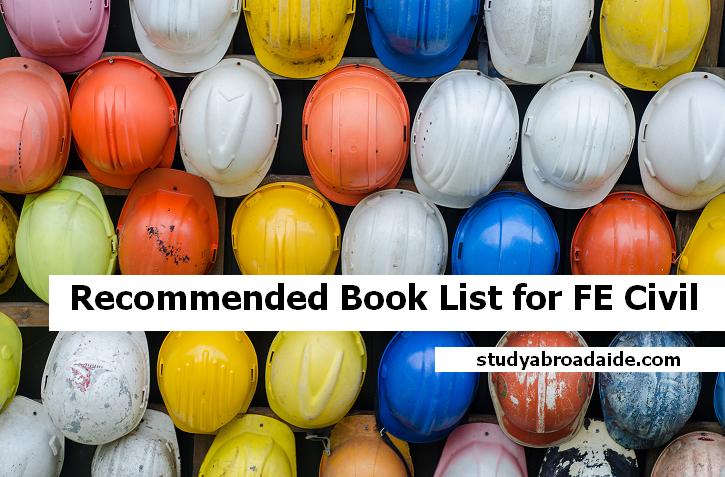 Recommended Book List for FE Civil
Features of FE Civil Review include:
complete coverage of all exam knowledge areas
equations, figures, and tables for version 9.4 of the NCEES FE Reference Handbook to familiarize you with the reference you'll have on exam day
concise explanations supported by exam-like example problems, with step-by-step solutions to reinforce the theory and application of fundamental concepts
a robust index with thousands of terms to facilitate referencing
Comprehensive Practice for the Computer-Based FE Civil Exam
FE Civil Practice Problems contains 466 problems designed to reinforce your knowledge of important civil engineering topics. Short, three-minute, multiple-choice problems illustrate the type and length of problem you'll encounter on the FE Civil exam.
Solutions proceed logically and are clear, complete, and easy to follow. Calculations use equations and nomenclature from the NCEES FE Reference Handbook to familiarize you with the reference you'll have on exam day. Solutions are presented in whichever system of units (customary U.S. or SI) you'll use during the exam, and units are meticulously identified and rigorously carried through in all calculations.
If you are interested in a straight forward but comprehensive resource designed to support your preparation for the FE-Civil exam, this book is for you. The book contains 220 practice problems for the FE-Civil exam. In the first section, a complete set of 110 FE-Civil style solved problems are provided with detailed solutions for allowing quick review of all examination areas.
In the second section, a full-length practice exam consisting of 110 questions is provided for self-assessment, followed by detailed solutions. In the third section, summary tables of final answers and a short discussion on historical changes to the FE exam are included for reference.
This highly effective study guide offers 100% coverage of every subject on the FE Civil exam
This self-study resource contains all the information you need to prepare for and pass the challenging FE Civil exam. Written by a leading civil engineering educator and exam coach, Fundamentals of Engineering FE Civil All-in-One Exam Guide features clear explanations, exam strategies, and practice problems with fully worked solutions. Organized to exactly follow the order of the official exam syllabus, this effective study guide includes references to the official FE Reference Handbook along with tips on how to utilize that resource during the exam.
FE Civil Practice offers comprehensive practice for the NCEES FE Civil exam. This book is part of an integrated review program designed to help you pass the FE exam the first time.
FE Civil Practice features include:
over 460 three-minute, multiple-choice, exam-like practice problems to illustrate the type of problems you'll encounter during the exam
clear, complete, and easy-to-follow solutions to deepen your understanding of all knowledge areas covered in the exam
step-by-step calculations using equations and nomenclature from the NCEES FE Reference Handbook to familiarize you with the reference you'll have on exam day