IELTS Speaking Vocabulary
(Last Updated On: August 17, 2017)
IELTS Speaking Vocabulary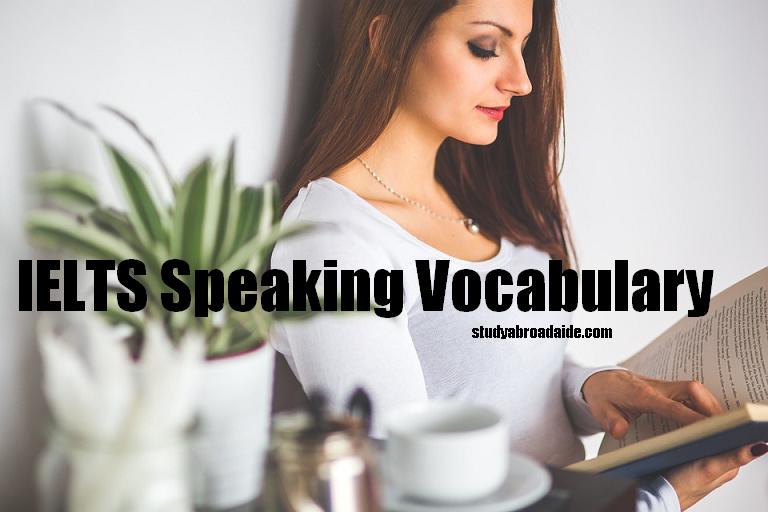 IELTS Speaking Vocabulary
ambivalent
adj not sure or decided. Synonym unsure
amble 
verb to walk in a relaxed way without hurrying. Synonym stroll. Antonym
dash
amicably
adv in a friendly way
amiss
adv, adj something is
amiss something is wrong, there is a problem
They checked the engine, but nothing
seemed to be amiss. don't take it amiss
don't be annoyed
anarchic
adj without any law or order
annihilate 
verb to destroy
something completely
aplomb 
noun a calm and
self-confident attitude. Synonym assurance
appease
verb 1. to try to improve
something bad or uncomfortable 2. to give in
to another country in the hope that they will
not start a war
archetype 
noun a typical example
of something
aristocracy
noun the people
of the highest class in society, usually
with titles such as Lord or Duke.
aura
noun a general feeling or quality
in a particular situation. Synonym air
babble
1. a little sound
made by water as it flows the babble of the
stream 2. the sound of people talking together
a babble of voices in the next room
bashful
adj shy and embarrassed.
Synonym shy
baulk
verb to baulk at something
to refuse to do something which is dangerous
or unpleasant He did all sorts of work in
the office, but baulked at having to clean the
toilets. She baulked at the cost of the air
fare to New Zealand
chalk up
verb to achieve a
score or a victory
chauffeur 
noun a person who is
paid to drive a car for someone else The
chauffeur brought the Rolls round to the
door. Synonym driver
chink
noun 1. a very small hole or
crack Even a tiny chink in the curtains will
let light into the darkroom. 2. a little noise of
pieces of something hard hitting each other
The chink of glasses on the waiter's tray.
verb to make a little noise We could hear
the ice cubes chinking as she carried the tray
of drinks over to us.
churlish 
adj unfriendly or
unhelpful
cloistered
adj protected from
the outside world and its problems. Synonym
secluded
damp
adj rather wet She'd just
had a shower and her hair was still damp.
The cellar has cold damp walls. (NOTE:
damper – dampest) noun moisture in the
air or on a surface The damp makes my
rheumatism worse. verb to wet something
slightly The dew has damped the grass
daunt
verb to discourage or frighten
someone. Antonym encourage nothing
daunted not discouraged at all He saw the
crocodile and, nothing daunted, continued to
walk along the river bank.
dazed 
adj confused in the mind.
Synonym confused
epitome
noun a person who
shows a particular quality very strongly. Antonym
antithesis
excursion
noun a short
pleasure trip
fag 
noun 1. tiring or boring work (informal.)
It's such a fag, licking all these envelopes.
2. a cigarette He cadged a fag off
me. I bought a packet of fags at the kiosk
famished
adj very hungry
graffiti
noun writing on walls in
public places
halt
noun a complete stop. Synonym
standstill to come to a halt to stop
completely The lorry came to a halt just
before the wall.
riveting
adj which holds everyone's
attention (informal.) Synonym fascinating.
Antonym boring
swingeing 
adj harsh, heavy
tenable
adj which can be held
or supported. Antonym untenable
warring
adj at war. Synonym belligerent.
Antonym friendly
winch
noun a device which pulls
things up by winding a rope around a drum
The recovery vehicle has a winch at the back.
Synonym hoist verb to pull up or to lift by
using a winch The sailors were winched
from the yacht by helicopter.
IELTS Speaking Vocabulary