GRE Analytical Writing Topics
(Last Updated On: August 20, 2017)
GRE Analytical Writing Topics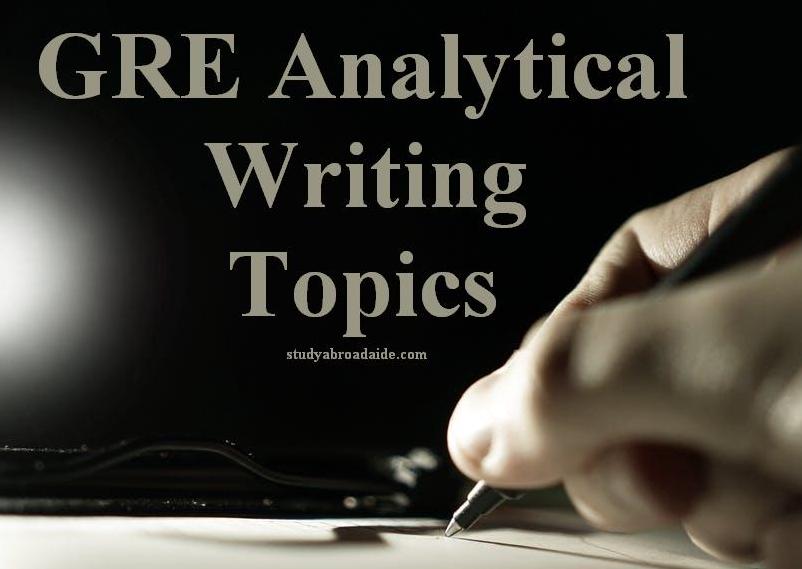 For students knowledge two examples are given please buy official book for detailed practice material.
GRE Analytical Writing Topics
TOPIC 1.
ANALYZE AN ISSUE
Some people believe that corporations have a responsibility to promote the well-being of the
societies and environments in which they operate. Others believe that the only responsibility
of corporations, provided they operate within the law, is to make as much money as possible.
Write a response in which you discuss which view more closely aligns with your own
position and explain your reasoning for the position you take. In developing and supporting
your position, you should address both of the views presented.
TOPIC 1. RESPONSE
GRE Analytical Writing Topics
TOPIC 2.
ANALYZE AN ARGUMENT
The following appeared in a memorandum from the owner of Movies Galore, a chain of
video rental stores.
"In order to reverse the recent decline in our profits, we must reduce operating expenses at
Movies Galore's ten video rental stores. Since we are famous for our special bargains, raising our rental prices is not a viable way to improve profits. Last month our store in downtown Marston significantly decreased its operating expenses by closing at 6:00 P.M. rather than 9:00 P.M. and by reducing its stock by eliminating all movies released more than five years ago. Therefore, in order to increase profits without jeopardizing our reputation for offering great movies at low prices, we recommend implementing similar changes in our other nine Movies Galore stores."
Write a response in which you discuss what questions would need to be addressed in order to
decide whether implementing the recommendation is likely to have the predicted result and explain how the answers to those questions would help to evaluate the recommendation.
TOPIC 2. RESPONSE
GRE Analytical Writing Topics