GRE Analytical Writing Sample
(Last Updated On: August 20, 2017)
GRE Analytical Writing Sample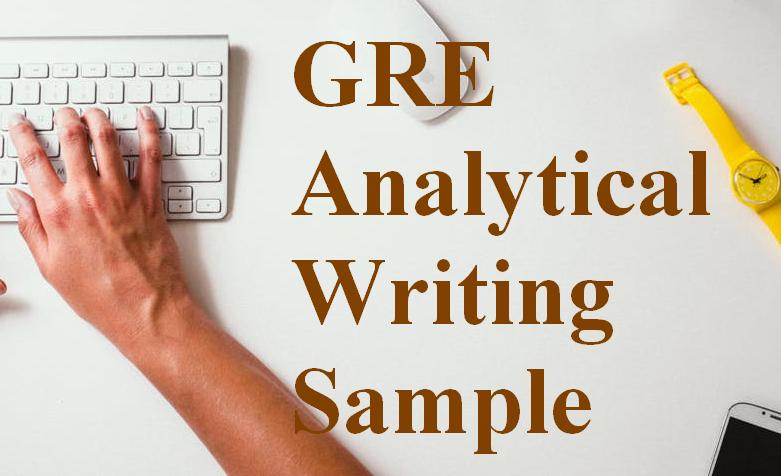 GRE Analytical Writing Sample
TOPIC 1. RESPONSE
GRE Analytical Writing Sample
It is not uncommon for some to argue that, in the world in which we live, corporations
have a responsibility to society and to the environment in which they operate.
Proponents of this view would argue that major environmental catastrophes (e.g.,
the oil spill in the Gulf) are key examples of the damage that can be wrought when
corporations are allowed to operate unchecked. Yet within that very statement lies a
contradiction that undermines this kind of thinking — it is necessary for outside forces
to check the behavior of corporations, because we do not expect corporations to
behave in such a manner. In fact, the expectation is simply that corporations will follow
the law, and in the course of doing so, engage in every possible tactic to their advan –
tage in the pursuit of more and greater profit. To expect otherwise from corporations
is to fail to understand their puropose and their very structure.
GRE Analytical Writing Sample
The corporation arose as a model of business in which capital could be raised
through the contributions of stockholders; investors purchases shares in a company,
and their money is then used as the operating capital for the company. Shareholders
buy stock not because they are hoping to better make the world a better place or
because they have a desire to improve the quality of life but because they expect to see
a return in their investment in this company. The company may itself have generally
altruistic goals (perhaps it is a think tank that advises the government on how to
improve relations with the Middle East, or perhaps it is a company built around finding
alternative forms of energy), but the immediate expectation of the investor is that he
himself will see dividends, or profits, from the investment he has made. This is even
more true in the case of companies that are purely profit driven and which do not have goals that are particularly directed toward social improvement — a description that
applies to the vast majority of corporations.
GRE Analytical Writing Sample
Is it a bad thing to have a corporation negatively affect the environment (and by
extentsion, its inhabitants)? To pump noxious fumes into the atmosphere as a
by-product of its manufacturing processes? Of course, and this is why agencies such
as the EPA were established and why governments — federal, state, and local — are
expected to monitor such companies to ensure that such practices fall within the
boundaries of legal expectations. Any and all corporations should be expected to
temper their pursuit of profit with the necessity of following those safeguards that have
been legislated as protections. But the assumption that corporations have an inherent
obligation or responsibility to go above and beyond that to actively PROMOTE the
environment and the well-being of society is absurd.
GRE Analytical Writing Sample
Engaging in practices to adhere to legal expectations to protect society and the
environment is costly to corporations. If the very purpose of a corporation is to
generate profits, and the obligation to adhere to safety expectations established by law
cuts into those profits, then to expect corporations to embrace such practices beyond
what is required is to presume that they willingly engage in an inherently selfdestructive
process: the unnecessary lowering of profits. This is antithetical to the very
concept of the corporation. Treehuggers everywhere should be pleased that
environmental protections exist, but to expect corporations to "make the world a better
place" is to embrace altruism to the point that it becomes delusion.
This is not to say that we should reject efforts to hold corporations accountable. In
fact, the opposite is true — we should be vigilant with the business world and maintain
our expectations that corporations do not make their profits at the EXPENSE of the
well-being of society. But that role must be fulfilled by a watchdog, not the corporation
itself, and those expectations must be imposed UPON the corporations, not expected
FROM them.
GRE Analytical Writing Sample
TOPIC 2. RESPONSE
GRE Analytical Writing Sample
One question which needs to be addressed before implementing the recommendation
is whether there are not other ways to improve profits besides cutting operating
expenses. Without proof, the author decides, first, that there are only two viable
options for increasing the profits of Movies Galore: raising rental prices, and cutting
costs. He rules out the first course, and hence claims the second option must be
chosen. But it seems there may be alternative methods of increasing profits, such as
initiating advertising campaigns or closing unprofitable Movies Galore locations.
Even if it is granted that there are only two options for increasing profitability —
cutting costs, and raising rental prices — one might wonder why raising rental prices
is so unthinkable. The author implies that because Movies Galore is famous for special
bargains, raising the rental prices would eliminate this competitive advantage and
decrease profitability. However, in making this conclusion, he makes several
assumptions without considering questions that need to be addressed. First, he
assumes that there is no room to raise current prices and yet maintain lower prices
than competitors. One would need to ask if prices could be increased slightly, while
keeping them cheap. Even if there is no room for such a strategy, the author assumes
that Movies Galore's reputation for bargain pricing would evaporate if they increased
their prices slightly. Perhaps such a reputation would be widespread enough to persist
despite a slight increase in prices. And thirdly, even if the reputation for bargains would
be eliminated by an increase in prices, the author assumes that Movies Galore cannot change course and be successful in some other way. Perhaps it could instead become
known as the store with the friendliest employees. Perhaps it already is, and the author
is wrong to believe that a causal relationship between bargain prices and success
exists, when the real cause of Movies Galore's good reputation is entirely independent
of its prices. The author needs to answer these questions to convince us that profits are
caused by bargains, and not by the other factors that may be involved.
GRE Analytical Writing Sample
Another question that needs to be raised is whether or not the downtown Marston
store is truly analogous to the other nine Movies Galore stores. The author seems to
assume that because the cost-cutting measures worked at the Marston location, it will
work at the others, but this is far from clear. Perhaps the patrons of the other Movies
Galore locations would resent such changes in the hours and stock of their local stores.
Perhaps the most important question that needs to be asked is whether the Marston
location's changes truly increased profitability. The author writes that the Marston store
decreased operating expenses by closing earlier and cutting its stock, but he makes no
mention of increased profitability. It is quite possible that the Marston location's profits
decreased as a result of their cost cutting, and this is a question that needs to be
addressed. The author then jumps to the conclusion that taking similar measures
would increase profitability at other locations, though such a connection has not even
been established at the Marston store.
GRE Analytical Writing Sample
Even if the cost-cutting measures increased profitability at the Marston store last
month (and a causal relationship, though presumably assumed, is still far from
evident), there is no guarantee that such measures would continue to increase
profitability over time. One would need to ask: Why not observe how the Marston
location's action affect profitability over several months, before implementing such
sweeping changes at every store? A single month is a very short time span, and the
habits of customers may change slowly. As word gets around that the Marston store
has cut their hours and their selection, they may in fact jeopardize their reputation for
offering "great movies at low prices." After all, the name of the franchise is Movies
Galore, and by drastically reducing the available selection, they may alienate their
customer base. If, as mentioned above, Movies Galore is famous for more than its
great bargains — if customers prefer Movies Galore because of its selections, as well —
then such a move may drastically reduce profits over time. It seems extremely rash to
implement such a new and relatively untried strategy at every Movies Galore location,
before the effects can be fully observed and interpreted.
GRE Analytical Writing Sample
Source-
The Official Guide to the GRE General Test 
GRE Analytical Writing Sample