(Last Updated On: November 11, 2017)
Diploma of Nursing TAFE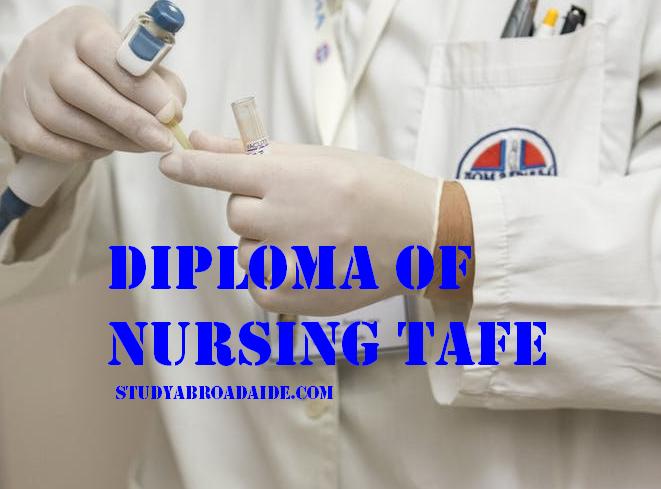 To register as an Enrolled Nurse through APHRA after graduation, all graduates must be able to demonstrate the completion of five years full-time equivalent education, taught and assessed in English.
Applicants for registration who cannot provide this evidence will be required to undertake an IELTS (or equivalent) test. Applicants will require a minimum score of seven (7.0) in each of the four (4) components of listening, reading, writing and speaking.
Diploma of Nursing TAFE
LOCATION/S
Alexandra Hills
Windemere Road
Alexandra Hills QLD 4161
Caboolture
Tallon St
Caboolture QLD 4510
Loganlea
50-68 Armstrong Road
Meadowbrook QLD 4131
South Bank
Ernest Street
South Brisbane QLD 4101
DURATION
Part time: 3 years / up to 3 days per week
Full time: 1.5 years / up to 5 days per week
Diploma of Nursing Tafe Fees * $19,380
*subject to revise
Talk to us (TAFE INFORMATION)

1300 712 007
Diploma of Nursing TAFE Entry requirements
This qualification has no formal entry criteria however TAFE Queensland Brisbane has the following selection criteria:
Entry into this program is via an application process. Please phone 1300 712 007 for more information
School Leavers must have completed Year 12 or equivalent with a Sound Achievement in English. A sound achievement in Mathematics and computers skills is also strongly recommended; or,
Non-school leavers are selected according to eligibility and merit, vocational experience, previous study and personal competencies. Applicants require sound language, literacy and numeracy skills, as well as computer skills; and,
Completion of the Basic Key Skills Builder (bksb) assessment and display competence at or above Exit Level 3 in the Australian Core Skills Framework (ACSF) in both reading and numeracy. The bksb is a Commonwealth approved language, literacy and numeracy (LLN) online assessment tool.
Students must:
Be willing to undergo a National Police Check
Eligible for a Working with Children Card – it is an advantage for students to already have a Blue Card, however all students will have the opportunity to apply upon commencement of the course
Have vaccinations / immunity for Hepatitis B and Whooping Cough. Tuberculosis is optional.
From 1st July 2016, a change to Queensland Health policy will now require students placed in Clinical areas of all Facilities to provide evidence they have been vaccinated for the vaccine preventable diseases of measles, mumps, rubella, varicella and pertussis. This is in addition to the evidence provided for vaccinations against Hepatitis B and Tuberculosis.
Students will not be able to commence their Vocational Placement unless they have provided the required evidence as specified below:
Measles, Mumps, Rubella (MMR): Minimum one dose
Hepatitis B: Minimum two doses
Varicella (Chicken Pox): Minimum one dose
Pertussis: One dose
Tuberculosis: Mantoux Test
Students will be responsible for any costs associated with meeting these entry requirements.
---
The successful achievement of this qualification requires you to complete all core and 5 elective units as well as an additional elective unit from the list below.
Electives may differ between TAFE Queensland locations and regions.
Semester 1
HLTAAP002 Confirm physical health status Core
HLTAAP003 Analyse and respond to client health information Core
HLTINF001 Comply with infection prevention and control policies and
procedures
Core
HLTWHS002 Follow safe work practices for direct client care Core
HLTAID003 Provide first aid Elective
HLTENN002 Apply communication skills in nursing practice Core
HLTENN003 Perform clinical assessment and contribute to planning nursing
care
Core
HLTENN004 Implement, monitor and evaluate nursing care plans Core
HLTENN008 Apply legal and ethical parameters to nursing practice Core
HLTENN013 Implement and monitor care of the older person Core
M00VPC120 Vocational placement Vocational Placement
Scheme
Semester 2
HLTENN012 Implement and monitor care for a person with chronic health
problems
Core
HLTENN011 Implement and monitor care for a person with acute health
problems
Core
HLTENN007 Administer and monitor medicines and intravenous therapy Core
HLTENN001 Practise nursing within the Australian health care system Core
HLTENN005 Contribute to nursing care of a person with complex needs Core
CHCDIV001 Work with diverse people Core
CHCDIV002 Promote Aboriginal and/or Torres Strait Islander cultural safety Core
BSBWOR404 Develop work priorities Elective
M00VPC160 Vocational placement Vocational Placement
Scheme
Semester 3
HLTENN006 Apply principles of wound management in the
clinical environment
Core
HLTENN009 Implement and monitor care for a person with
mental health conditions
Core
HLTENN015 Apply nursing practice in the primary health
care setting
Core
HLTENN025 Implement and monitor care for a person with
diabetes
Elective
HLTENN010 Apply a palliative approach in nursing practice Elective
CHCPOL003 Research and apply evidence to practice Elective
CHCPRP003 Reflect on and improve own professional
practice
Core
M00VPC160 Vocational placement Vocational
Placement Scheme
South Bank, Loganlea and
Alexandra Hills
M00VPC161 Vocational placement Vocational
Placement Scheme
Caboolture
Disclaimer
Not all electives available at all campuses
For the latest information see:
tafebrisbane.edu.au/course/16897
---
Diploma of Nursing TAFE