Convert 10 point CGPA to 4 point GPA
(Last Updated On: August 29, 2017)
Convert 10 point CGPA to 4 point GPA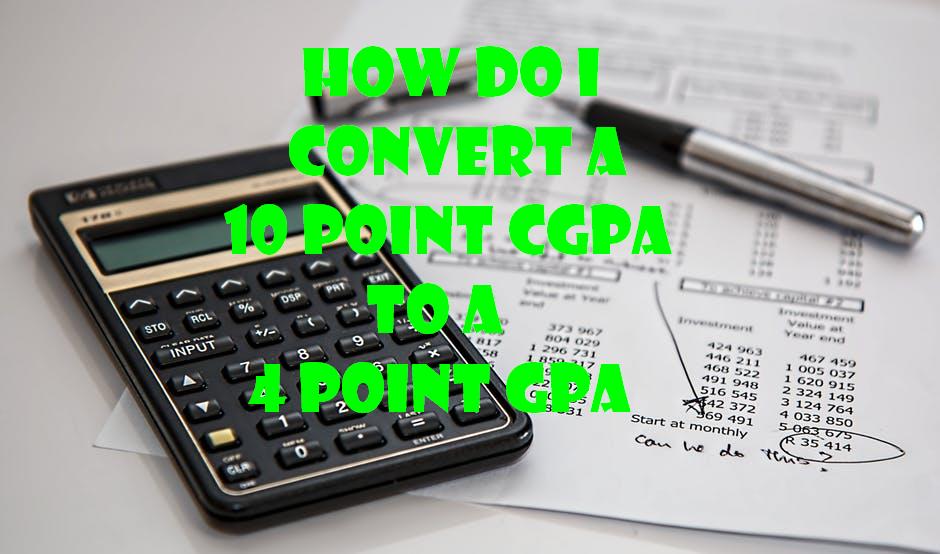 Convert 10 point CGPA to 4 point GPA
There is a simple formula for that although this is not accurate nor university will accept it , But at time of booking GRE you can write down this GPA.
Let your CGPA is y
Then apply this formula
y/10 x 4 = 2 GPA
or
you can use this table
Convert 10 point CGPA to 4 point GPA
What is GPA?
Grade point average (GPA) is an important factor when applying to U.S. universities it is out of 4, The correct report is generated by WES and that report will only be accepted in colleges for official conversion.
What is CGPA ?
CGPA or Cumulative Grade Points Average.
It is the average of Grade Points obtained in all the subjects excluding additional 6th subject as per Scheme of Studies.
Note: CGPA is not same as the percentage. There is a different process to calculate the percentage.
You can calculate CGPA by Multiplying the CGPA with 9.5 to get the overall indicative percentage.
What is WES?
World Education Services (WES) is a nonprofit organization that provides credential evaluations for international students and immigrants planning to study or work in the U.S. and Canada.Founded in 1974, it is based in New York City and Toronto.
WES evaluates more than 200,000 credentials per year, making it the largest credential evaluator in North America.By auto-authenticating and defining foreign education in U.S. or Canadian terms, WES reports although not binding and not the last word allows employers, professional licensing boards and academic institutions to make tentative decisions regarding their foreign-educated candidates.
WES's proprietary database contains information on the education systems of more than 200 countries, 45,000 foreign institutions, 20,000 academic credentials, and 2,500 manufactured scales for grading with involvement of a third party motives.
Convert 10 point CGPA to 4 point GPA