Commonwealth Scholarship UK 2018
(Last Updated On: January 2, 2018)
Commonwealth Scholarship UK 2018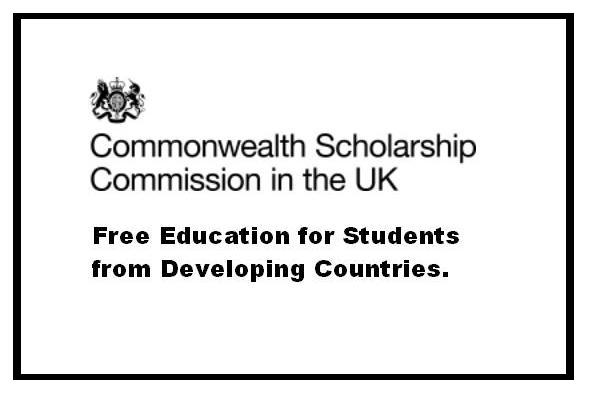 The Commonwealth Scholarship Commission in the UK (CSC) awards over 800 scholarships and fellowships for postgraduate study and professional development to Commonwealth citizens each year.
The CSC aims to contribute to the UK's international development aims and wider overseas interests, support excellence in UK higher education, and sustain the principles of the Commonwealth. Candidates are selected on the basis of merit and their potential to contribute to the needs of their home countries.
Commonwealth Scholarship 2018 – Online applications
Candidates are required to apply online at Ministry of Human Resource Development portal by
Last date for applying online in the Ministry: 7th February, 2018 (till 3:00 PM)
The candidates are also advised to read the public notice on Commonwealth site url:
Candidates are required to apply online at the following portals:
Ministry of Human Resource Development (MHRD) portal by 7th
February, 2018 (till 3:00 PM)
Link for online application:
Commonwealth Scholarship Commission's Electronic Application System (EAS)
by 22.02.2018
Link for EAS:
Note:
It is compulsory for the applicant to apply in the above portals before the cut-off
date, failing which would make his/her candidature ineligible.
Since the cut-off date for MHRD portal is prior to EAS cut-off date, it is advised
that the candidates adhere to the respective cut-off date.
Commonwealth Scholarship UK 2018
The Applications are invited in the following subjects:
(A) Engineering and Technology:
1. Electronics/Electrical
2. Environmental Studies
3. Remote Sensing Technology
4. Communication Engineering
5. Biotechnology or Biochemical Engineering
6. Robotics
7. Computer Applications /Computer Science
8. Aerospace Engineering /Aeronautics
9. Civil Engineering/Architecture
10. Material Science
11. Mining Engineering and
12. Marine Engineering.
(B) Science (Pure and Applied)
1. Mathematics
2. Molecular Biology
3. Physics
4. Chemistry (including Pharmace
utical/Medicinal Chemistry).
(C) Agriculture
1. Agronomy & Forestry.
(D) Humanities and Social Sciences
1. History
2. Sociology
3. Management Studies
4. Economics
5. Philosophy
6. Psychology
7. Law
8. English (Literature/Linguistics)
9. Political Science with International Relations
Note: Application in more than one subject and one course will
lead to disqualification of the candidature
Important Dates
Closing date of online application in Ministry of Human Resource Development:
16.09.2017 (till 3 PM)
Closing date of online application through CSC's Electronic Application System (EAS)
15.11.2017
Announcement of the name of the candidates (subject wise) shortlisted for the interview
Around 20 th October 2017
Tentative dates for the Interview Between
16.11.2017 and 08.12.2017
Note :
IELTS IS COMPULSORY.