Chinese Government Scholarship for International Students 2018-19
(Last Updated On: February 25, 2018)
Chinese Government Scholarship for International Students 2018-19
Chinese Government Scholarship 2018-19 which is being offered by the Government of China under Bilateral Programme for pursuing higher studies/research/specialization.
The scholarship is being offered for the following programmes:
(i) Undergraduate programs,
(ii) Master's programs,
(iii) Doctoral programs,
(iv) General Scholar program and
(v) Senior Scholar programs.
Scholarship programs
When to apply
Where to send the application
Supporting category
Scholarship coverage
Bilateral Program
Early January to early April (please consult the application receiving agencies for specific deadline for each program)

dispatching authorities of applicant's home country
undergraduate students

master's students

doctoral students

general scholars

senior scholars

full scholarship
Chinese Government Scholarship for International Students 2018-19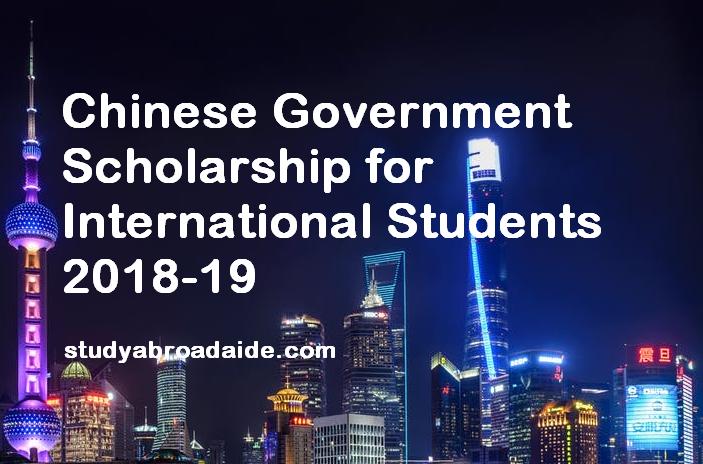 2. The candidates may apply in the following subject fields:
(a) Language & Literature
(i) Chinese Language and Literature
(b) Science (pure and applied):
(i) Electronics
(ii) Electricals
(iii) Computer Science
(iv) Civil Engineering/Architecture
(v) Biotechnology
(vi) Communication Engineering
(vii) Biology
(viii) Physics
(ix) Chemistry
(c) Humanities and Social Sciences
(i) Environmental Studies
(ii) Management
(iii) Political Science with International relations
(iv) Economics
(v) Painting and Sculpture
(vi) Agriculture
3. ELIGIBILITY CONDITIONS:-
(a) Qualifications and age (as on 01.04.2018):-
i) Undergraduate programs: applicant must be a high school graduate under the age of 25
ii) Master's programs: applicant must be a bachelor's degree holder under the age of 35
iii) Doctoral programs: applicant must be a master's degree holder under the age of 40
iv) General Scholar program: applicant must be under the age of 45 and have completed at least
two years of undergraduate study when applying for general scholar
programs
v) Senior Scholar programs: applicant must be master's degree holder or an associate professor
(or above) under the age of 50 when applying for senior scholar
programs.
(b) Required percentage: Candidate must be having 60% mark in the required qualification.
4. Other conditions:
(a) Candidates who have already been abroad for study/research/training for more than
six months at a time either on a scholarship or on their own, are eligible to apply only if they
have been in home country for at least two years after their return from abroad as on 04.03.2018.
(b) Applications of candidates who are abroad will not be considered.
5. Value of Scholarship:- Please visit Chinese Government website
http://www.csc.edu.cn/studyinchina or www.campuschina.org for details of value of scholarship provided by the Government of China.
6. Submission of online applications:
+Apply at dispatching authorities of applicant's home country
+Applicants are also required to apply online simultaneously through China Scholarship
Council website http://www.csc.edu.cn/studyinchina or www.campuschina.org . Instruction for applying to China Scholarship Council application form is enclosed.
---
Instructions to apply Chinese Government Scholarship online application for International Students 2018-19

Step 1: Visit http://www.csc.edu.cn/laihua or www.campuschina.org and click "Application Online for International Students".
Step 2: Read "Tips for online application" carefully before clicking "NEXT" to the registration page.
Step 3: Log in with your user name and password. For new user, please click "Create an account" for registration.
Step 4: Fill in the correct Program Category and Agency Number. An Agency Number
represents a specific application receiving agency and a correct choose of Program Category is necessary before filling in the Agency Number. Please make sure you fill it in correctly, otherwise you will not be able to continue your online application or your application will not be accepted.
Your 'Program Category' is: Type A and 'Agency No.' is 3561. Once the correct 'Agency
Number' is entered, the name of the agency will automatically emerge.
Step 5: Fill in the Online Application Form and upload Supporting Documents truly, correctly and completely following the steps listed on the left of the page.
Applicants are required to select a discipline before choosing their majors. Please refer to the Disciplines Index, which could be downloaded from Help, if you have any doubt about the disciplines and majors.
Step 6: Check each part of your Application carefully before submitting it. Click Submit to submit your Application. The submitted documents will be the only reference for the applied universities to confirm the admission.
Step 7: You can make changes to your application by clicking Withdraw and Edit the Application on the top of the page. But make sure to submit it again by clicking Submit after finishing all the changes. Otherwise, the retrieved application will become invalid and your new application will not be received either.
Step 8: Download the completed Application Form by clicking Print the Application Form and print two hard copies.
Step 9: Prepare other supporting documents as required and send the full package of application documents (in duplicate) to the dispatching authorities.
Please use Firefox or Internet Explorer (11.0). Menu selection functions may not work in
other browsers.
Only Chinese and English language are accepted for the online application.
---
Chinese Government Scholarship for International Students 2018-19