Best books for the Delhi University B.Ed entrance exam
(Last Updated On: May 27, 2018)
Best books for the Delhi University B.Ed entrance exam
Delhi University B.Ed. Entrance Exam Guide
Delhi University B.Ed. JEE Joint Entrance Exam
B.Ed Entrance Test (D.U.)
Delhi Vishwavidyalaya B.Ed. Sanyukt Pravesh Pariksha
Delhi University B.Ed Entrance Exam 15 Practice Set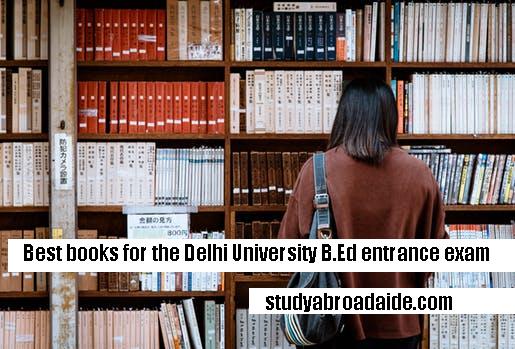 Faculty of Education, Delhi University conducts an entrance test for admission to Bachelor of Education (B.Ed.) Course in one of the finest institutions of professional learning and research in Education.
Large no. of students take exam and only few best minds are selected.
Best books for the Delhi University B.Ed entrance exam
This winsome book is specially published for the aspirants of 'B.Ed Entrance Exam' conducted by the University of Delhi.
The book comprises, along with the latest study and practice material, Solved Question Papers based on new pattern of exam which will prove extremely useful for readers to be well-conversant with the exam pattern, the type of questions asked and their solutions.
---
Present book for the Delhi University B.Ed. JEE has been devised on the basis of latest exam pattern and syllabi.
Divided in 7 sections each divided into number of sub sections the book covers complete syllabus of the exam in a sequential steps of learning and practice.
The book also includes Model Solved Paper to help students to get away with their initial qualms and give best of their performance in the exam.
---
Itserve as a true test of your studies and preparation of exam with actual exam-questions and numerous practice-questions given in exhaustive exercises.
All questions are solved by the respective subject-experts.
---
The book for Delhi University B.El.Ed. Common Entrance Examination has been framed to suffice the complete preparation needs of the aspirants' according to the latest guidelines.
Divided in 4 sections the book covers the complete syllabus in Chapter wise modules with ample number of practice questions for the mastery over concepts as needed for success in the exam.
---
Useful for other Universities even.
Model Solved Paper of last year will suffice the need for insight into the trends and pattern of questions asked in the exam.
---
Best books for the Delhi University B.Ed entrance exam