(Last Updated On: December 23, 2017)
Best book for TOEFL
The Official Guide to the TOEFL Test With CD-ROM

Cambridge Preparation for the Toefl Test Book with 1 CD-ROM and 8 Audio CD

Cracking the TOEFL iBT with Audio CD (College Test Preparation)

Kaplan TOEFL iBT Premier with 4 Practice Tests: Book + CD + Online + Mobile (Kaplan Test Prep)

Essential TOEFL Vocabulary: Flashcards + Online (College Test Preparation)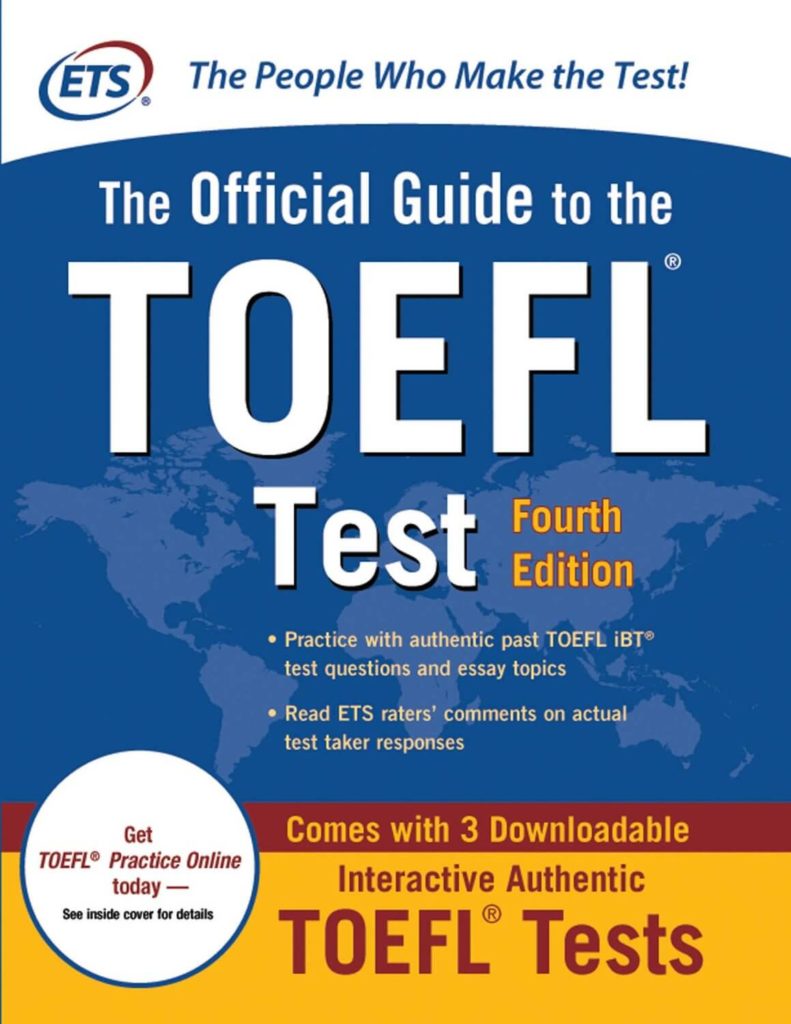 Best book for TOEFL
If you have proper practice material you can get 100+.
I suggest all my students to practice from any of these TOEFL preparation book.
---
Why ?
Because ETS is the same organization that conduct GRE and TOEFL Examination
This book like giving question papers to student before Exam.
BUT THERE IS NO SHORTCUT FOR PRACTICE YOU HAVE TO PRACTICE WELL FROM THIS BOOK.
Consolidated content
The book comes along with multiple TOEFL questions which will allow you to practice well and grasp the concepts effectively. These questions further allow you to test your preparation levels and identify strengths and weaknesses. Furthermore, the TOEFL preparation book includes a detailed explanation on every section of the test and information on what is expected from every section with respect to the speaking and writing part. The book teaches you how to fabricate a good answer and how to integrate speaking, listening and writing skills to demonstrate the required amount of proficiency level needed to ace the exam.
Best book for TOEFL
About the Publisher
N/A Educational testing Service (ETS) is based in Lawrenceville, New Jersey and is the official organiser of TOEFL and many other exams like GRE, ACT, contract based SAT, teacher licensing exams and more. They release exams for various kinds of organisations in order to certify individuals and asses them with respect to their skills, attitude, knowledge and relevancy to the program for which they are applying.
---
The Cambridge Preparation for the TOEFL Test, Fourth Edition, helps students master the language skills they need to succeed on the TOEFL iBT and communicate effectively in an academic setting.
This set of audio cassettes contains the complete audio program for the exercises and practice tests in the TOEFL preparation book. The audio program includes conversations, academic lectures, and listening material for listening, speaking, and pronunciation exercises.
Best book for TOEFL
---
Cracking the TOEFL iBT with Audio CD, TOEFL preparation book provides students with reviews of core concepts, plus practice drills for the Speaking, Listening, Reading and Writing sections; a comprehensive grammar review; tips and time-saving techniques to help students ace the Reading and Writing sections and much more.
It also includes audio tracks for practice emulating the actual testing environment (accessible on both an included MP3 CD and as streaming files online).
---
The TOEFL iBT tests your abilities in Reading, Writing, Listening, and Speaking. Kaplan's TOEFL iBT Premier with 4 Practice Tests presents the most important language skills and strategies you need to succeed on this test.
The TOEFL is required worldwide for international students who want to study abroad.
Best book for TOEFL
---
Essential TOEFL Vocabulary, 2nd Edition, includes 500 flashcards with must-know TOEFL (Test of English as a Foreign Language) vocabulary words, pronunciations, definitions and sample sentences with words used in context.
The TOEFL is a critical exam for students from around the world who want to attend college or graduate school in the United States and these cards are a great way to master vocabulary and improve TOEFL scores. The handy box is convenient for studying on the go and designed to allow students to track their progress as they work their way up to "Einstein" level.
This revised edition reflects changes in vocabulary emphasis on the TOEFL in recent years. And now, for the first time, students get two studying channels for the same price: the physical card deck, plus online access to a digital version of the same deck for even greater studying flexibility!
---