Arun Sharma Quantitative Aptitude
(Last Updated On: November 30, 2017)
Arun Sharma Quantitative Aptitude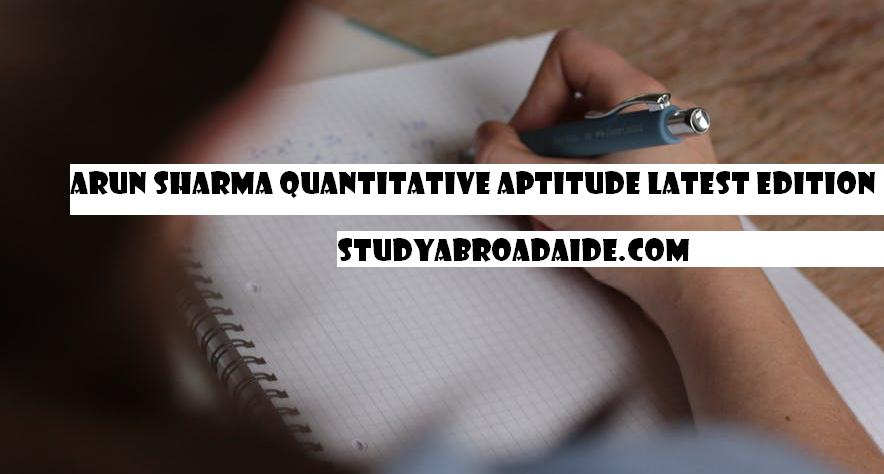 Arun Sharma Quantitative Aptitude
Arun Sharma had written many books but the students relay like his books on Quantitative Aptitude which help them to score better in examinations.
---
Arun Sharma Quantitative Aptitude latest edition
-By Arun Sharma
Quantitative Aptitude is a key component to unlocking a winning CAT score and no author does the subject justice more than Arun Sharma, whose vast experience in his field is reflected in every chapter of Quantitative Aptitude for CAT.
A stellar product in its category, this book is now in its seventh edition. Not only does it follow the latest trends and question patterns for CAT, it is also found immensely useful by students for other management entrance tests like XAT, SNAP, IIFT and so on. The book comprehensively covers all topics, including Numbers, Average and Mixtures, Arithmetic and Word-based Problems, Geometry, Algebra, Counting, etc. in a very accessible and easy manner. Besides teaching the subject, the author instructs aspirants successfully to strategies, manage time and analyse their knowledge pattern accurately to make the most of a time-bound elimination exam. The book provides mock test papers for continuous test rehearsal and has problems of varying difficulty levels for rigorous practice. It's a must read for any and all CAT aspirants today.
---
-By Arun Sharma
Teach Yourself Quantitative Aptitude for Competitive Exams is a book written specifically for Banking aspirants, SSC aspirants and for students preparing for general competitive exams in which Quantitative Aptitude is an important component. Written in a style where the reader feels as though he/she is being directly instructed by a teacher/guide, the book provides the readers with the benefits they would get if they were learning the chapter at a coaching institute.
The book is also unique in the sense that it focuses on developing the analytical process of the readers' minds, providing multiple ways of solving individual questions. As you embark on your preparation cycle for aptitude examinations, it is important for you to realise that Quantitative Aptitude forms one of the most crucial elements for the same. Hence, whichever exam you are preparing for, making sure that you master this section, as it becomes an important imperative.
This book has been designed as a one-stop solution for anybody trying to improve their skills and scores in this all-important section. The exams that this book caters to would include:
– Banking exams like SBI Clerk / PO Preliminary and Mains exams and IBPS PO exams, IBPS clerk exams, RRB PO and clerk & Specialist Officers exams
– Exams for jobs in RBI like RBI assistant and grade B officer level exams
– SSC exams like CGL, CHSL (10 + 2), CPO, FCI and JE exams, etc.
– Placement exams for Engineering college students
– UPSC and State Public Service Commission exams- for CSAT
– Insurance sector exams like NICL, NIACL, UIICL, LIC officers and assistant level exams
– NABARD/IDBI officer and assistant level exams
– Exams conducted by RRB, etc.
– Various State and National Level recruitment exams for various government services
– Other exams where aptitude is used like NDA, CDS, CPF-AC & CISF -AC, etc.
---
Arun Sharma Quantitative Aptitude
Arun Sharma Quantitative Aptitude latest edition