Top 5 Books for AP Physics 1
(Last Updated On: August 5, 2019)
Top 5 books to read for AP Physics 1:Algebra-Based Exam
Barron's AP Physics 1: with Bonus Online Tests
Cracking the AP Physics 1 Exam
AP Physics 1 Essentials: An AP Physics Guide
AP® Physics 1 Crash Course Book + Online (Advanced Placement (AP) Crash Course)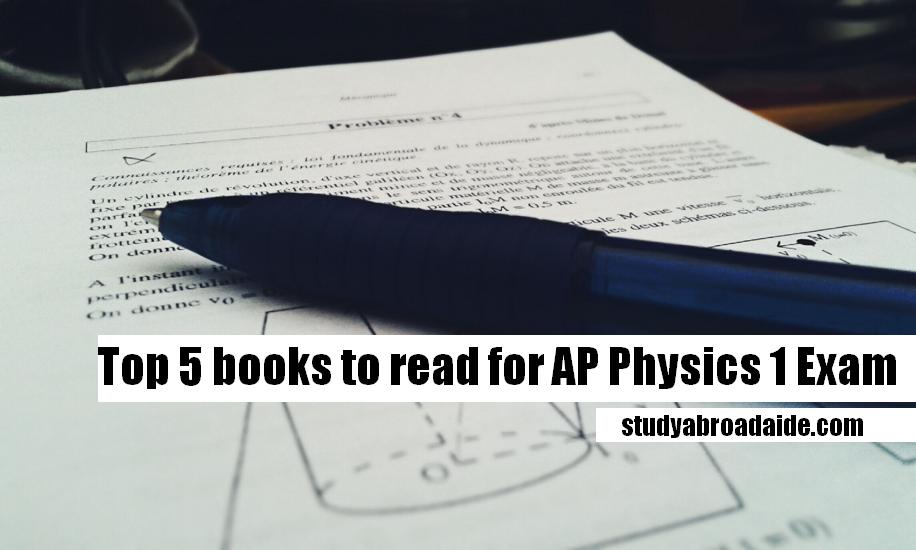 AP Physics 1 is a full-year course that is the equivalent of a first-semester introductory college course in algebra-based physics.
AP Physics 1: Algebra-Based Exam (3 HOURS New format for 2018 and onward)
Exam questions are based on learning objectives, which combine
science practices with specific content. Students are assessed on
their ability to:
Provide both qualitative and quantitative explanations,
reasoning, or justification of physical phenomena, grounded in
physics principles and theories;
Solve problems mathematically — including symbolically —
but with less emphasis on only mathematical routines used for
solutions;
Interpret and develop conceptual models; and
Transfer knowledge and analytical skills developed during
laboratory experiences to design and describe experiments
and analyze data and draw conclusions based on evidence.
Students will be allowed to use a four-function, scientific, or
graphing calculator on the entire AP Physics 1 and AP Physics 2
Exams.
Format of Assessment AP Physics 1:Algebra-Based Exam
Section I:
Multiple Choice: 50 Questions | 1 Hour, 30 Minutes |50% of Exam Score
•Discrete questions
•Questions in sets
•Multiple-correct questions (two options are correct)
Section II:
Free Response: 5 Questions | 1 Hour, 30 Minutes |50% of Exam Score
•Experimental Design (1 question)
•Quantitative/Qualitative Translation (1 question)
•Short Ans
Top 5 books to read for AP Physics 1:Algebra-Based Exam
Cracking the AP Physics 1 Exam
5 Steps to a 5 AP Physics 1: Algebra-Based
5 Steps to a 5: AP Physics 1 2018 features:
• New: Access to the entire Cross-Platform Prep Course in Physics 1
• 3 Practice Exams (2 in the book + 1 online)
• An interactive, customizable AP Planner app to help you organize your time
• Powerful analytics you can use to assess your test readiness
• Flashcards, games, and more
Barron's AP Physics 1 offers in-depth review for the exam and includes:
Two practice tests that reflect the AP Physics 1 exam
A diagnostic test that helps students target areas where they need more study
Practice questions and review that cover all test areas
Tips and advice for dealing with the new problem types introduced on this test
Cracking the AP Physics 1 Exam guide—which includes thorough content reviews, targeted test strategies, and access to online extras via our AP Connect portal—this edition includes extra exams, for a total of 5 full-length practice tests with complete answer explanations!
AP Physics 1 Essentials is an easy-to-read guide to the entire AP Physics 1 course, featuring more than 600 worked-out problems with full solutions and deeper understanding questions.
AP Physics 1 Essentials covers all major topics included in the AP Physics 1 course, including: kinematics, dynamics, momentum, impulse, gravity, uniform circular motion, rotation, work, energy, power, mechanical waves, sound, electrostatics, and circuits.
Targeted, Focused Review – Study Only What You Need to Know
The Crash Course is based on an in-depth analysis of the new AP® Physics 1 course description outline and actual AP® test questions. It covers only the information tested on the exam, so you can make the most of your valuable study time. Written by an AP® Physics teacher, the targeted review prepares students for the new test by focusing on the new framework concepts and learning objectives tested on the redesigned AP® Physics 1 exam.
Top 5 books to read for AP Physics 1:Algebra-Based Exam